by Virtucom Group Team
By now, it's no secret that digital content is a cornerstone in the success of modern businesses around the world. But the reality is that developing a blog strategy, creating the content and then promoting your blog posts can be extremely time-consuming, and your team probably has better things to do.
That's where content agencies come in. Content creation firms take things a step further than freelance writers and online article sellers by not only tackling the issue of content creation, but by helping your business devise a content development strategy that delivers results.
Choosing the right content partner can be a challenge, and it's not always easy to determine which agency is worth your time and money. Here, we'll explore eight steps you can take to separate winning agencies from the competition, so you can invest confidently.
1. Measure the agency's abilities against the precise needs of your business.
"What does my business need out of a content agency?" is undoubtedly the first question you should ask when you're ready to outsource your content work.
It might seem like a question that's simple to answer, but when you consider the little details that go into the best digital content, it can become a bit more complicated. Are you hoping for content that incorporates high-quality images, like graphs and infographics? Or would you prefer blog posts that come paired with short videos? Different types of content necessitate different skills, which will inevitably factor into your final decision.
Another factor worth considering is your expected turnaround time. If you're hoping to receive your articles quickly, it's important to partner with an agency whose team is big enough to keep up with your content demands.
2. Examine the agency's completed work.
Just as a customer isn't likely to buy your product without content that illustrates its value, you shouldn't choose a content agency without first exploring content they've created in the past. Delving into the agency's portfolio allows you to confirm the team's ability to write for a specific brand persona while ensuring that the content meets general quality standards.
You may already have received sample content from the agency, but bear in mind that samples crafted for your brand may be especially high-quality in order to help make the sale. Looking at past content is a good indicator of the level of quality you can truly expect.
3. Gauge the talent of the team.
The odds that you'll communicate directly with the people responsible for writing your content are fairly slim, so it's worth asking what sort of standards are in place for the agency's writing hires. Are relevant academic degrees requires? How about past writing experience?
That's not to say natural writing talent doesn't exist or isn't important, but marketing content creators require a host of additional traits that separate them from your everyday writer. Traits worth looking for include excellent research skills, in-depth SEO knowledge, adaptability and the ability to craft relevant content without constant oversight.
4. Learn about the company's quality control process.
At this point, it's probably clear that strong writing skills are just one part of the content marketing equation. Editing, proofreading and general quality standards are just as critical when it comes to the creation of high-quality content, because mistakes of any caliber – even the simplest typos – can deal significant damage to your company's reputation.
That's why discussing your potential partner's quality control process can help you weed out the agencies that won't measure up. Look for an agency that employs a consistent editorial system that includes several members of the team – exposing a single piece of content to multiple sets of eyes can work wonders in reducing errors that may have slipped by the author.
5. Confirm that the agency can work without hand-holding.
Once you've decided where you'll source your content writing services, you'll have to provide the agency with general guidelines and feedback throughout your relationship. But the ideal agency can tackle the majority of work without constant involvement on your part.
When you're in talks with potential copywriting agencies, be up front about how much time you have to spare for strategic discussion and feedback. If you want to keep it to an absolute minimum, let them know, and be clear that you need expert writers that are ready to write content that meets your demands. This ties back to the talent of the team – writing skills are important, but the ability to deliver relevant content that supports your business goals with minimal guidance is also essential.
6. Look through the agency's website.
In order the attract clients, copywriting agencies have to show website visitors what they're made of through their own digital content, typically presented in the form of a company blog, knowledge center or a similar content hub.
Sift through the websites of each copywriting agency you're considering, and take careful note of the content's quality. Is it well-written, detailed and carefully researched? Does it serve a clear purpose for a distinct audience? If you discover poor writing, frequent spelling errors or other blunders, you might want to search elsewhere.
Additionally, if the company has no blog whatsoever or only updates their blog every once in a blue moon, it's worth moving on, as these issues can suggest that the agency has yet to grasp the importance of quality digital content.
7. Compare company cultures.
Just like your business is based on values that help separate you from your competitors, content agencies feature their own unique company culture that promotes a certain working style. Some copywriting agencies might focus on writing that's technical and businesslike, for example, whereas others strive to create fun, upbeat copy. Enlisting an agency with a culture that parallels your company's values is your best bet for getting your hands on content that meets your demands. Plus, it helps ensure smooth, pleasant communication between parties.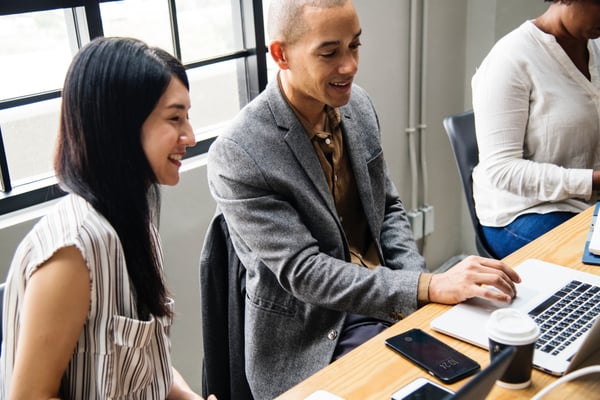 And, try to make sure that the agency's team is actually the agency's team. Some content writing service providers hire freelance writers and try to pass them off as their team of content creators. And while there are plenty of freelancers with top-of-the-line writing skills, an in-house group of expert writers in a collaborative workplace helps ensure quality and consistency you can count on.
8. Make sure you're partnering with a group of clear, open communicators.
The last thing your business needs is to waste time trying to buy articles from a copywriting agency that makes basic communication a hassle. Have you had trouble getting in touch with an agency during initial talks? If so, they're probably a poor fit. Extenuating circumstances aside, there are few excuses for slow, inadequate or nonexistent responses from companies who are fundamentally rooted in the field of communications.
Find Content Writing Services that Drive Your Business' Success
If you keep these factors in mind on your quest to buy blog content that converts, you'll have no trouble forging a lasting relationship with a copywriting agency that delivers results you can rely on. Need a little extra guidance to help you choose the perfect partner? Download our free ebook today.