by Virtucom Group Team
Everybody makes mistakes, but what happens if those mistakes are published on your company's website for the world to see and scrutinize? In the world of e-commerce, it's critical that businesses present their best face – in person and online.
When you craft content that is public-facing, making sure each piece is perfectly polished is key to establishing yourself as a trustworthy source that clients can turn to for thought leadership. If you don't use an in-house content editor or buy articles and blog content from a reputable copywriting agency, this can be a tall order for your team to fill.
You may be wondering, are typos and spelling/grammar mistakes really that negatively impactful? The short answer is: yes, and they can cost you more than just dollars.
Typical Typos Expert Writers Avoid
Whether you're writing a business blog, social media post or print brochure, there are several types of common typos and errors to be on the lookout for. While you may think factual errors are the most egregious, spelling and grammar mistakes can also create an equally poor user experience and get people talking negatively about your company.
Typos can wreak havoc on your reputation, which can ultimately affect customer relationships and revenue. Let's take a look at a few examples:
Social media mishaps: LinkedIn and Facebook are perfect platforms for companies to show their human side and connect with the public on a more personal level. Unfortunately, with so many eyes on your content, when mistakes happen, they'll be noticed quickly, costing you valuable likes, shares and follows.
Print blunders: Some of the most costly mistakes occur on paper. Before brochures, newsletters or sales flyers are printed and distributed, each word needs to be carefully reviewed by a content editor. If mistakes make it into print, you could potentially miss important deadlines for clients and double production costs.
E-mail errors: Effective e-mail marketing campaigns can turn readers into sales leads. Business executives receive dozens of e-mails in their inboxes daily, so it's imperative that the message you send stands out – in a positive way. If your e-mail is riddled with spelling errors and typos, it will come across as spam, leading to increased unsubscribe rates and decreased conversions.
Factual faux pas: When you cite facts and figures in your copy, making sure they're correct upon publishing is critical. Factual errors may very well result in customer complaints by phone or e-mail, but they can also result in costly copyright infringement and other litigation. Fact-checking helps solidify your company's business blog or newsletter as a credible source of information that clients can trust.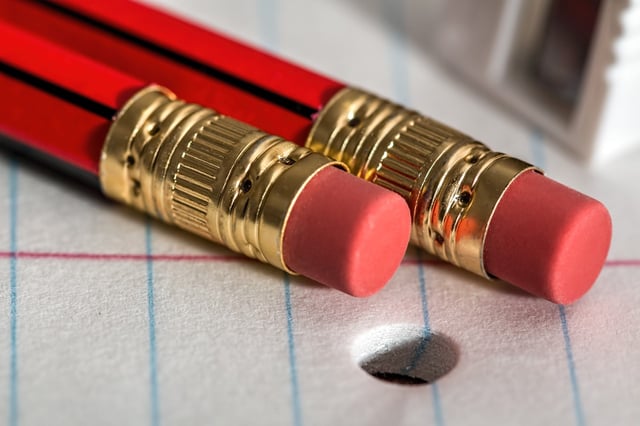 To prevent costly errors from invading your copy, consider creating a checklist for yourself. This checklist can include common errors you frequently make, reminders about grammar/punctuation and anything else that lets you double-check your written content.
Using a proofreading checklist can help you catch and remove a number of errors, but in order to publish content that's truly error-free, you should consider hiring a copywriting agency that uses content editors to carefully comb through every piece of content.
Invest In A Copywriting Agency That Can Create Error-Free Content
Maybe you're currently relying on a proofreading program to edit your content. While running your copy through a spell and grammar check in Microsoft Word may seem like a solid option, editing software isn't always reliable, and it's not as thorough – or nuanced – as a content editor.
Oftentimes, proofreading programs won't understand the context of your sentences, allowing mix-ups like "form" instead of "from" to sneak their way into your copy. Plus, while the dictionary in your word processing software is fairly extensive, it won't encompass every available term, especially specific brand technologies or complex industry jargon.
When you hire a copywriting agency that employs expert writers and content editors, it can make all the difference in how your brand is presented to the public, while also freeing up valuable time for your own staff to focus on their core responsibilities. In the world of e-commerce, time is always of the essence. Having expert writers and content editors carry out your content initiatives can take your business to the next level.
While starting to work with a content creation agency may seem like a daunting task, it doesn't have to be. Experienced copywriting agencies let you buy articles that designate your brand as an industry authority, buy blog content that enhances your search rankings on Google and purchase content creation services that boost conversion rates on your site. Qualified agencies are able to consistently produce content that you'd be proud to present to consumers and share with loyal followers on your preferred social media platforms.
To learn more about this type of partnership, check out our free e-book on outsourcing content creation. This resource can help you select the right company to create error-free content for your business.