by Virtucom Group Team
Here's a worrisome fact: Only 41% of B2B businesses feel that their organization clearly understands what an effective or successful content marketing program looks like.
However, the same study found that 81% of the most successful survey respondents said their organization did have a clear understanding of what makes a successful content marketing program. That's an almost 50% difference – what's going on here?
Despite this disparity and lack of clarity, 88% of B2B marketers are using content to power inbound marketing strategies. What does this tell us? For one, that many organizations are spending considerable amounts of money to purchase or produce content, but few really know how to utilize their investment.
Let's say you've been doing some homework on the value of content marketing. You're seeing shared blog posts from competitors on social media and hearing great things about driving conversion with content. It's only logical to join the bandwagon, but there's no one on your staff with writing talent or the time to learn the ins and outs of blogging and article writing. What can you do?
"I'll buy an article," you think, and you fire up Google to search for a place to get good content at a great price. And there's little chance you'll struggle finding places to buy blog content, articles, landing pages or any other type of writing you desire.
The only real question is, what are you getting for the money you spend?
What Happens When You Buy Articles?
So you seek out a freelancing site, browse their content writers and choose the one who's right for you. Or perhaps you don't even have that much input into the hiring process, and your assignment is simply handed off to a writer for completion. Eventually, your article is delivered, you publish it on your website and wait for new business to pour in.
After all, maybe you heard that content marketing costs 62% less than traditional marketing efforts, while delivering 3x more leads.
But the needle isn't moving. You aren't getting more site visitors. No one is filling out your forms. No one is reaching out via e-mail.
Maybe you should buy an article again? Maybe you should buy blog content, and a lot of it, just to get something out there?
Smart Brands Don't Just Buy Articles – They Buy Content Development Services
You may have a ton of content on your site, but if it's not guided by a sound content development strategy, you're not going to see great results. That's one of the main problems with purchasing individual pieces of content from freelancers: with nothing to strategically guide the creation and deployment of that content, all you're getting are words.
Let's return to that Content Marketing Institute survey.
This explains why so few businesses really understand how to use content. Whether they buy articles online or work with an in-house writer, they're likely not using a concrete strategy to guide their efforts. In fact, only 37% of B2B brands utilize a documented content strategy.
That should be enough to explain the gaps in content production and successful marketing, but consider these numbers as well. Only 13% of the B2B brands who consider themselves unsuccessful in content marketing use a documented strategy, while 61% of the most successful brands do.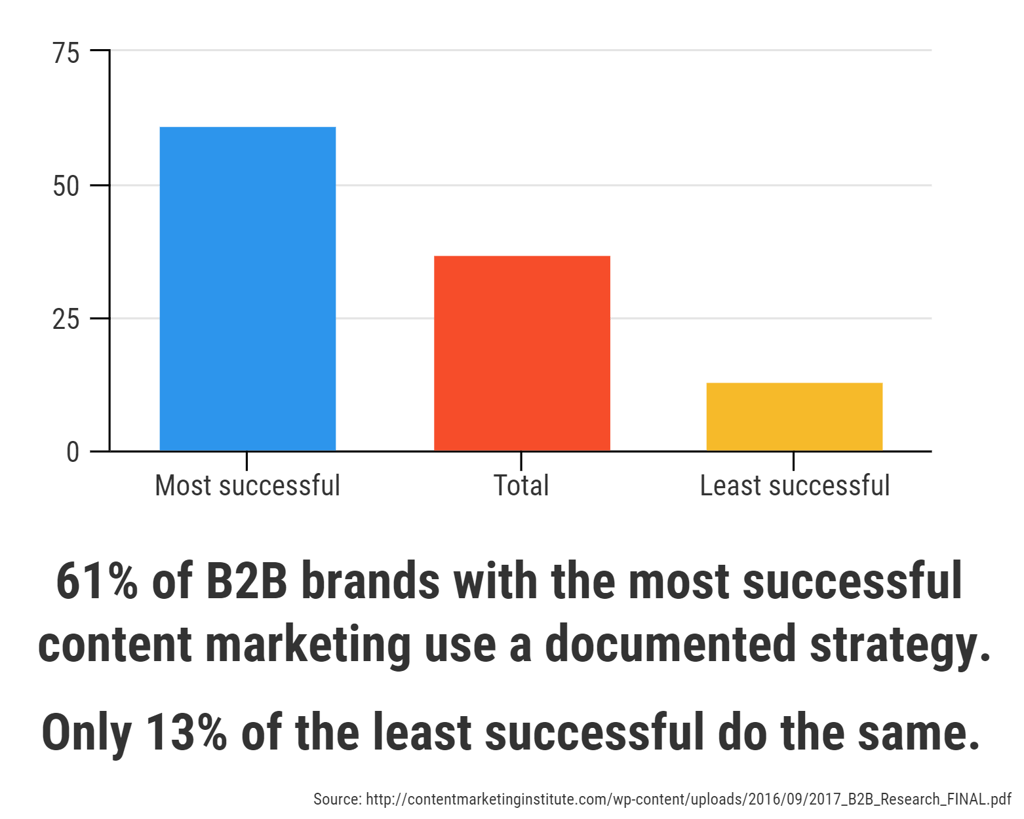 What Does Content Development Really Give You?
Given the low number of companies using a solid strategy, it's likely that you're not fully familiar with what that strategy should entail or how to create it. That means that no matter how much you spend when you buy articles or how well-crafted they are, you're not getting the full value of your investment.
So what should an effective strategy include? Here are a few essential elements, just to name a few:
While not all content development services are created equal, a reputable firm should be able to guide you through all of these strategy points and help ensure that each piece of content created delivers clear results and a worthwhile return on investment.
And if you already have a strategy in place? There's a very good chance that a copywriting agency can help you build on it with new strategies you may not be using. For example, should you create an ebook? Would it make sense to launch a sponsored content campaign? What about whitepapers? While you should always expect to receive top-tier articles and blog posts from content writing services, the greatest benefit you'll gain is that of experience and insight.
There are certainly some cases in which it makes sense to buy articles rather than a full-fledged content development service. Perhaps you're only supplementing the work of a staff writer, or you have a flawless strategy in place and are seeing incredible results.
However, in most cases, your business can benefit from going beyond piecemeal purchase of articles and blog posts. And don't forget the stats we discussed earlier about the cost of your investment vs. the rewards you can expect. With the data in mind, can you really afford to just buy an article when one is needed?
If you're seeing the signs that it's time to outsource content creation, our free ebook can help you determine the best content partner for your needs. Download it below, and contact us with any questions you may have.
---
About Virtucom Group
Consistent business blogging yields results – more clicks, more subscribers and – ultimately – more conversions. Whether you're writing an automotive blog, an accounting blog, a healthcare blog or a home renovation blog, blogging for business and content development are useful for any industry. Follow the content writers at the Virtucom Group blog as they share digital marketing tips and discuss website content writing services that can optimize your business blog.