by Britt DeJohn
By the end of this month, nearly 100,000 people will have searched "staffing agency" on Google, Bing or Yahoo. That means that by the end of 2018, your industry will have been searched well over 1 million times.
These numbers clearly demonstrate the high demand for staffing agencies. In fact, up to 90% of all businesses use a recruiting agency to help handle their staffing needs. But with high demand comes equally high – if not higher – competition. The recruitment industry is a clamorous space. With approximately 20,000 staffing and recruiting agencies in the U.S. operating approximately 39,000 offices, the marketplace is more crowded than ever before.
To put these numbers into perspective, consider that in the U.S. there are:
Approximately 6,000 insurance companies
Approximately 5,500 hospitals
Approximately 17,000 car dealerships
Staffing agencies trump all of these highly competitive industries. One of the chief challenges facing staffing agencies in 2018 is achieving differentiation for their brand. How can your company stand out in a space where your services and messaging are virtually identical to that of your competitors?
How Can Recruiting Agencies Stand Out in Such a Crowded Marketplace?
Picture a typical hiring manager. She sits down in her office chair and opens up her e-mail. Her account is flooded with sales pitches from recruitment agencies. Every staffing firm claims the exact same things.
We have the best screening process and the most talented jobseekers.
Our customer service team will exceed your expectations.
How is this hiring manager supposed to make an informed decision when every offer looks and sounds exactly the same? The key to differentiation is content. Recruiting blogs and other types of content provide staffing agencies with a platform where they can individuate their brand. And purposeful content lets them deliver targeted messages to their two main client populations – jobseekers and businesses that are hiring.
Throughout the rest of this post, we'll outline a two-part content strategy that can help recruiting firms attract two very distinct buyer personas in 2018 and beyond.
How Should Staffing Agencies Use Content to Attract Talented Jobseekers?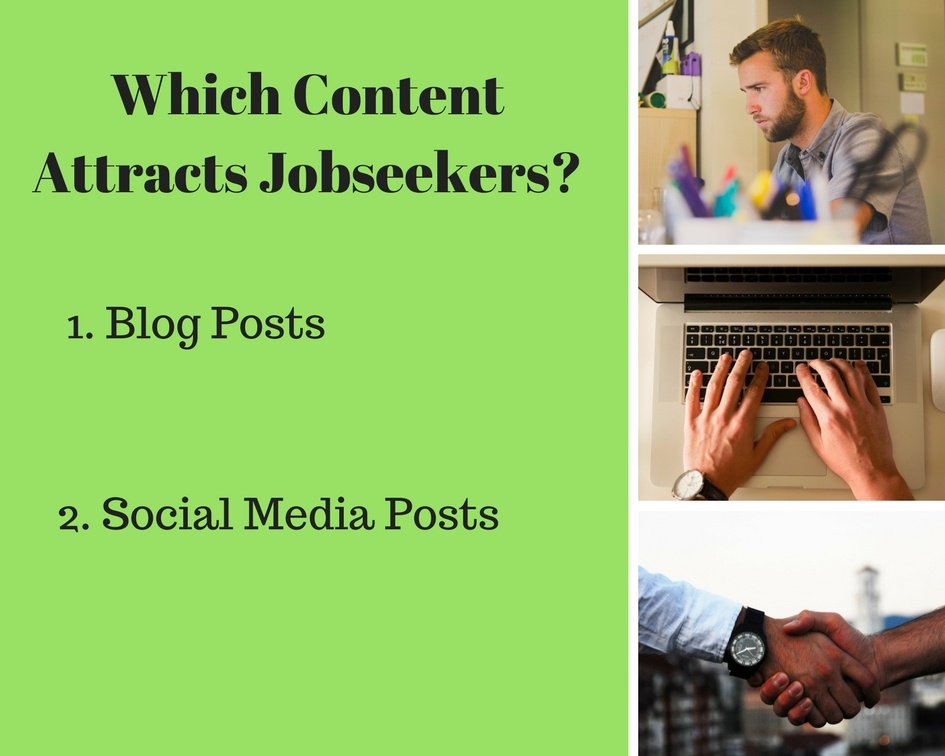 The unemployment rate is at a 17-year low – close to 4%. While this statistic is reason for most of the nation to celebrate, for hiring agencies, it presents serious cause for concern. With a steadily shrinking pool of available talent, recruiting firms face immense pressure to attract top-tier jobseekers in order to supply businesses with qualified personnel. And with the 4% unemployed population able to choose from a huge number of staffing agencies – or no staffing agency at all – value-rich content is the secret weapon that lets your company snag the spotlight.
Using Blog Posts to Attract Jobseekers
If you've ever scrolled through your LinkedIn feed, you're no stranger to the types of tired, extremely generic advice that dominate the professional career sector. The posts seem to come from a well-worn template – all of them simply recycled over and over again until the words begin to blend in front of your eyes, turning into meaningless shapes.
How to Nail the Top 10 Interview Questions
3 Ways You Can Find Your Next Dream Job
Leadership Tips for Introverts
Instead of jumping on the generic-content bandwagon, you can create content that truly adds value and that jobseekers will want to read. Publish recruiting blogs that are rich with relevant market data, highlight important industry trends and talk about the latest studies being conducted in specialized career fields.
Furthermore, with the advance of artificial intelligence, machine learning and content bots, more and more recruiting agencies are utilizing programmatic job advertising and automated content – resulting in a surplus of hollow, mechanical blogs. Value-rich blog posts are your chance to cut through the constant hum and meaningfully connect with jobseekers searching for authentic, relevant topics.
Plus, well-written recruiting blogs posted on a consistent schedule let you develop and nurture a relationship with jobseekers over time with educational content that doesn't feel pushy or like a thinly veiled advertorial.
Using Social Media Posts to Attract Jobseekers
70% of the global workforce is passive talent, which means they're not actively job searching.
87% of both passive and active candidates are open to new job opportunities.
In today's current recruitment climate, smart staffing agencies will start developing content marketing strategies that target this large group of passive jobseekers.
So how can hiring agencies get in front of passive talent? Since they're not actively searching for a job, they most likely will never read your postings on job boards. However, they probably will read content that they come across naturally. That's where social media comes into play.
According to the Society for Human Resource Management, 82% of HR professionals said that the primary reason their organization uses social media is to recruit passive job candidates.
84% of organizations are using social media for recruitment purposes now, while an additional 9% plan on using it sometime in the near future.
Your content strategy should be flexible enough to adapt to changing industry and employment trends – and today's eligible workforce can be summed up in two words: digital natives. Staffing agencies need to publish content where their target demographic hangs out, and today's passive jobseekers are hanging out on social media.
But which social media platform should you target? The same research from the Society for Human Resource Management shows us that:
LinkedIn is the most used and considered the most effective (96% of respondents)
Facebook and Twitter are also popular platforms (66% and 53%, respectively)
How Should Staffing Agencies Use Content to Attract Businesses?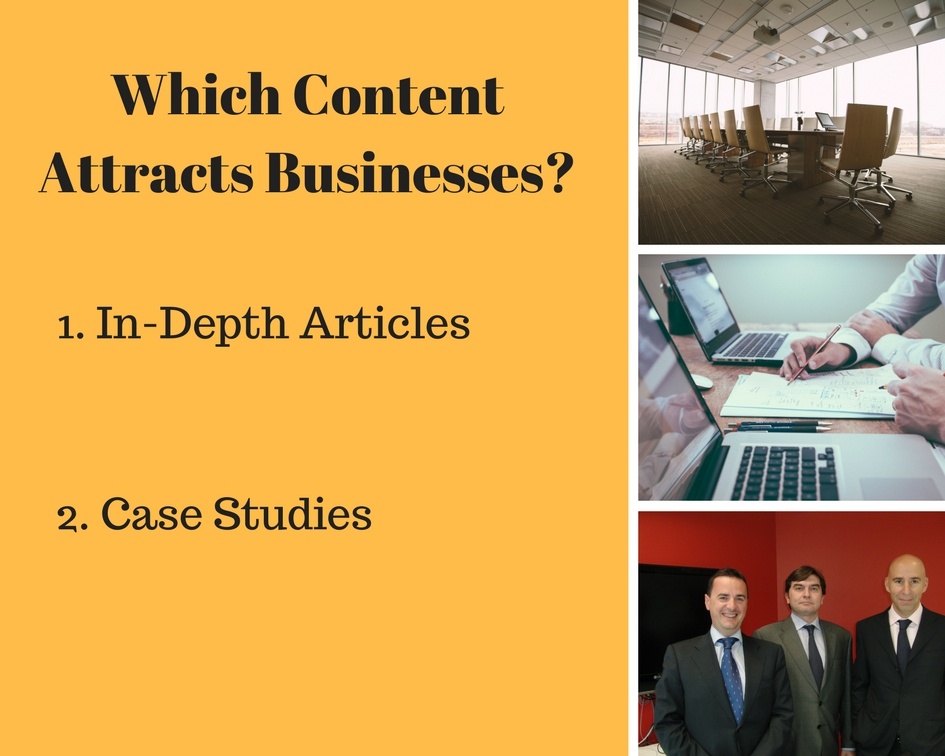 Using In-Depth Articles to Attract Businesses
How many business executives wake up in the morning, pour themselves a cup of coffee and think, 'I'd really love to talk to a representative for a recruitment agency today'? Probably not too many.
But, how many executives wake up and are instantly plagued with thoughts about the numerous business challenges they're confronted with? It's natural for business leaders to focus on their pain points.
It's been 2 months, and I still haven't been able to fill this job position. My current staff is struggling to make up the difference.
The last 5 interviews I've conducted have all been flops. The candidates don't have the skills that my company requires.
Your staffing agency can use information-rich articles to address business leaders' pain points that are always at the top of their minds.
Consider these statistics:
47% of small businesses are unable to find qualified candidates for their open job positions.
The top candidates are taken off the market in just 10 days.
33% of open positions remain unfilled for more than 3 months.
These are all glaring pain points that your target buyers are experiencing. And considering the fact that 35% of all staffing employees work in highly skilled fields that require higher education, your target businesses are going to want well-researched, data-driven content on relevant issues. Use your content as a way to showcase objective solutions. Potential clients will be much more likely to hire you if you educate them with articles rather than try to win their business with aggressive e-mails or cold calls.
Using Case Studies to Attract Businesses
Recruitment agencies are no strangers to objections. Plenty of companies resist hiring a recruitment agency because they believe they can handle their hiring needs internally with the same level of success and effort.
For these types of prospective clients, there's nothing more powerful than case studies. Use case studies to demonstrate your value and show businesses that you can actually save them time and money in the long run while providing top-tier talent. These types of high-impact results can sway even the most reluctant customer.
Maybe you helped a manufacturing company whose personnel needs fluctuated wildly throughout the year. Or perhaps you matched several highly specialized candidates to a biotechnology firm that ultimately ended up offering all of the candidates full-time positions. Whatever your success stories are, publish them. Your previous placement successes may very well lead to future business deals.
How to Implement This Two-Part Content Strategy
Your staffing agency is faced with attracting both talented jobseekers and businesses looking to hire in a time where the marketplace is incredibly crowded and the unemployment pool is shallow. Highly targeted, well-written content can help you attract both populations. If you're interested in implementing this two-part content strategy, reach out to one of our content experts, and we can discuss your agency's unique needs with you.