by Virtucom Group Team
Only 22% of marketers say their overall approach to content marketing is successful. With so many uncertainties in the world of content marketing, you need to be 100% confident that your current content agency knows exactly what they're doing and can prove their worth with data.
If you have any doubts about the effectiveness of your current content marketing agency, here are several telltale signs that they're costing you more than you think.
1. Your Content Agency Rarely or Never Hits Deadlines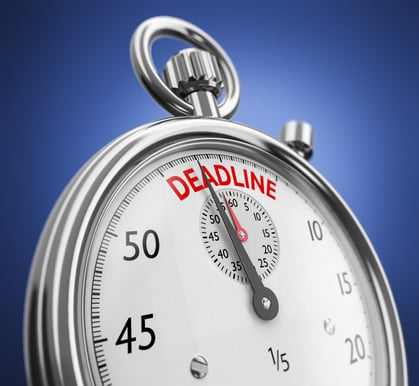 If your copywriting agency fails to meet critical targets, week after week and month after month, consider it a warning sign. When content is not produced in a timely manner, publication schedules get pushed back. As a result, your campaigns will start to fall behind, which can seriously hurt your marketing efforts – especially if you're looking to promote a particular sale you're having or a limited-time service you're providing.
Besides not hitting the goals you've set, missing deadlines can hamper audience engagement because of inconsistent publishing. While it's acceptable to give your content agency some leeway in the event of an emergency, if they habitually exceed the promised turnaround time, they'll never be able to catch up. And when you begin to lose prospects as a consequence, it's time to start looking into other options.
2. Your Content Agency Almost Always Delivers Subpar Content
When you receive a piece of content from your content marketing agency, do you always have to send it back for revisions? Although some modifications and corrections might be necessary when you first hire a content agency, if you find yourself nixing entire paragraphs and highlighting grammar mistakes on every piece they submit, it could mean trouble.
The reason you hired a content marketing agency was probably to take some content development responsibilities off your plate. However, if you have to spend valuable time every week checking for punctuation, accurate tone, factually correct information and so on, is it really worth sticking with your existing copywriting agency? Probably not.
3. Your Content Agency Isn't Creating Content to Drive Organic Traffic
You've been purchasing content writing services for quite some time, but your website hasn't seen an increase in organic traffic during that period. If this is the case, your content probably isn't being optimized for search engines by your current content agency.
SEO is king when it comes to content marketing, and if your content marketing agency isn't doing their homework, you won't be meeting or exceeding your goals any time soon. Expert writers take the time to research keywords that will help drive customers organically to your site. Inexperienced writers produce blog posts and landing pages quickly without conducting keyword analysis. Which category do the writers at your content marketing agency fall into?
4. Your Content Agency Costs More Than You Receive in Return
As a business, you know that numbers are objective, so if you've crunched the numbers only to find a negative ROI, it may be time to switch copywriting firms. Ideally, when you allocate funds toward content creation, you want to see a positive return on your investment after a reasonable amount of time has passed. Failing to draw in new prospects, convert visitors to leads and increase sales are all indications of major mismanagement of your content strategy.
When calculating ROI for your content marketing efforts, you need to look at conversions, traffic and other metrics as they relate to e-mail, search and social. To gauge organic traffic, try a service like Google AdWords Keyword Planner to find the cost per click (CPC) for your primary keywords in each blog post. Using this simple analysis, you can easily see if your copywriting agency is delivering results or coming up short.
End the Relationship with Your Ineffective Content Agency
When you buy blog content and other content writing services, your agency's failure to meet deadlines and create SEO-friendly, top-notch content shouldn't be acceptable. Consider parting ways with your inefficient content marketing agency, and look for copywriting firms that meet your content publishing goals, have a wealth of experience with SEO and are well-known for creating premium content. For more information about choosing a new content writing agency, consult our recent blog post concerning how to narrow down your content agency search.
Are you ready to ditch your content marketing agency? With over 15 years of experience in the content writing industry, Virtucom Group has the know-how to diversify your content, drive SEO and support your overall marketing efforts. Check out our monthly content packages to find a solution tailored to you.