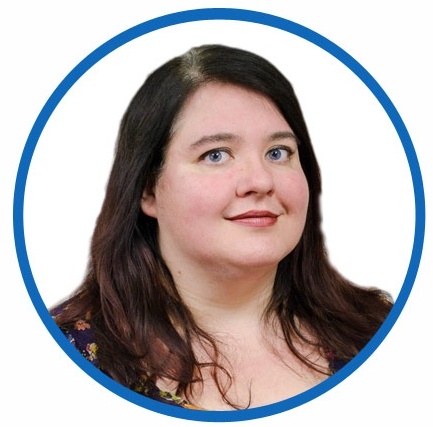 by Abigail Moore
When you fail to plan, you plan to fail.
It's an old truism, one you've no doubt heard before. And it's definitely not music to the ears when you're the one who failed to plan. Still, sayings become truisms because they ring true. This one rings especially true for anyone who's already blogging or has just started to consider it.
Content Marketing Institute's (CMI) B2B Content Marketing 2018: Benchmarks, Budgets, and Trends—North America report reveals that as of 2017, 79% of B2B brands use blogging as a key component of their content marketing strategy. Yet of that significant majority, just 37% of those surveyed had a documented content strategy in place to guide their blogging efforts. What can we take away from this data?
63% of B2B brands plan to fail when it comes to blogging.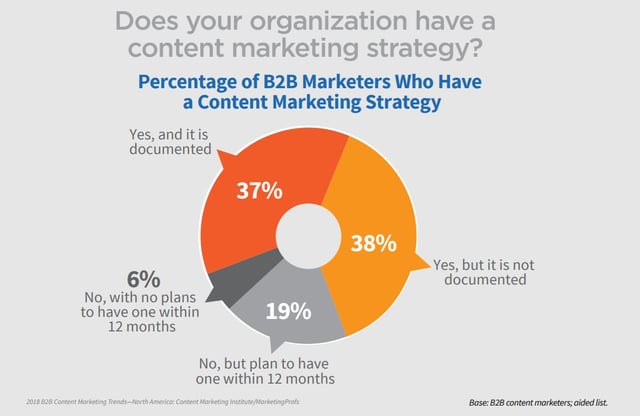 If that sounds extreme, this sobering statistic might change your mind. The 2017 Meaningful Brands report by Havas questioned 375,000 individuals from 33 countries about content created by the top 1,500 brands across the world. 60% of those surveyed reported that content offered by those brands was "poor, irrelevant or fails to deliver."
It's tough to swallow, but the criticism isn't going unnoticed. In fact, businesses – including your competition – are stepping up their blog strategy, with 72% of B2B firms indicating that strategy development and/or adjustment was the greatest factor to their success in the previous year.
There are a lot of reasons businesses blog without strategy. We hear them all the time.
We don't have time to strategize.
We just don't know where to start.
Content is king! If you build it, they will come! All that matters is dumping content online.
It's too hard to understand what Google wants.
We can't afford to not post blogs – we had to start ASAP, strategy or no strategy.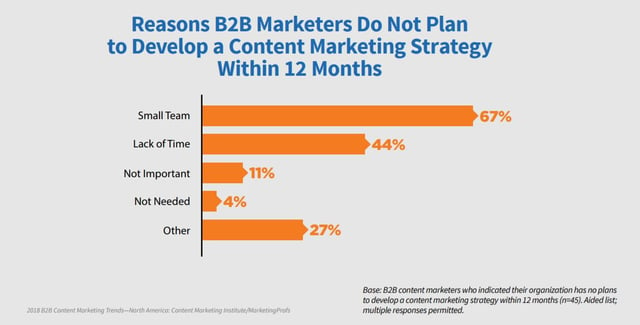 None of those reasons are good ones. If you're using them, today's the day to stop.
What is a blog strategy?
Simply stated, a blogging strategy is a plan for content marketing success. Using a clearly defined, fully documented strategy helps ensure that everything you publish is:
High quality: Every post should be accurate, informative, engaging and error-free. In short, you should be proud to show it to prospects.
Targeted: All blog posts should speak clearly to a desired audience in a voice that is tailored to their interests.
Actionable: Posts should direct site visitors through the buyer's journey, turning prospects into leads, leads into customers and customers into brand loyalists.
Timely: Strategy ensures that your blog posts reach audiences at the right time, whether that's the best moment in their purchase path or the right time in the news cycle.
Most of all, your blog strategy must make sense for your business. It takes Google less than a second to bring back roughly 58,300,000 results for "blogging best practices 2018," but only a clear understanding of your company, your goals and your needs will allow you to identify the right tactics for your unique business.
The only real silver bullet for blogging success is planning not to fail.
What do I need to include in my blog strategy?
Below, you'll find the most essential elements of your blogging plan. These are the big-picture actions you need to nail down before you create a single blog post.
Goals
Buyer personas
Competitive analysis
Keyword research
Content ideas
Editorial calendar
Distribution and promotion plan
Defined blog metrics
Staffing plan
But what if you've been blogging for several weeks, or six months, or two years? The good news is that it's never too late to blog strategically. However, it's essential that you have these conversations as soon as possible to stop wasting time and start creating the kind of blog content that fuels inbound marketing and helps your business grow.
In this series, we'll provide an overview of the must-have aspects of a hardworking blog strategy and explain everything you need to know to begin building your own. Today's installment covers the first steps toward devising your strategic blogging plan, from understanding your blogging goals to completing your first competitive analysis. Stay tuned in the weeks to come for additional insights, can't-miss tips and the tools you need to turn a purposeless blog into a strategic powerhouse.
1. Define blogging goals.
As you begin to think about your content strategy, you need to first understand what you want to accomplish. If you're not sure exactly what that is, you're not alone. Remember the 63% of B2B brands blogging without a documented strategy? There's a good chance they aren't sure about what they need to achieve either, beyond "publish content" and "get more business."
One easy way to begin defining blogging goals is to use the SMART goals framework. SMART goals adhere to a simple standard in that they are Specific, Measurable, Achievable, Relevant and Timely. Using this rubric allows you to answer all of the questions that come to mind when thinking about goals: How will we accomplish this task? When will we see results? What does this standard really mean?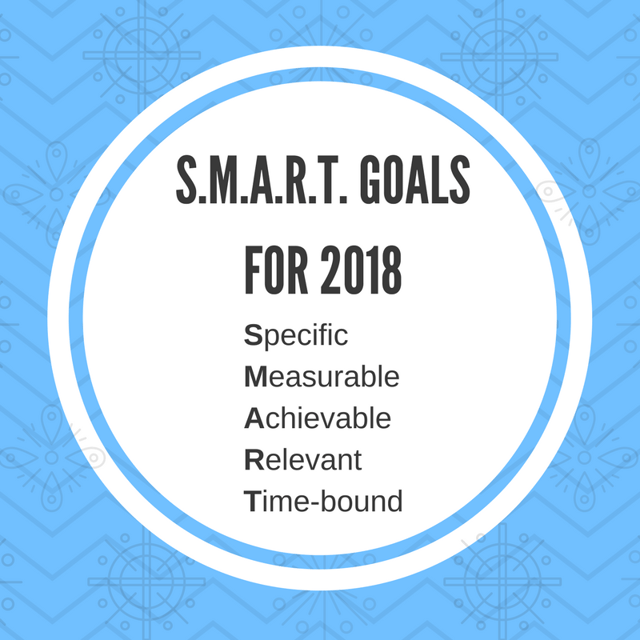 Imagine your boss asks you to get more eyes on your company website as a series of new products launch. You know that blogging is a great way to generate site traffic and you want to use the power of inbound marketing to achieve your goal. As it stands, your target is surrounded by ambiguity and unanswered questions. Using SMART goals can break it down to create an actionable path from idea to achievement.
Specific: First, determine what kind of traffic matters most. Since you're using blogging to generate traffic, your focus will be on organic search. And if our primary interest is new customers, then we'll narrow things even further to unique visits via organic search.
Measurable: Fortunately for us, this goal is easy to measure. We can refer to site analytics and see not just where our traffic comes from, but how much of it is made up of first-time visitors.
Achievable: Should we try to really impress your boss and aim for a million unique visitors? That's a nice idea, but consider your blog's current performance. If you're averaging 200 unique visitors a month, it's wisest to choose a reasonable increase that can be logically achieved through consistent blogging and quality SEO work. And there's no doubt your boss will be more impressed with 500 actual unique visitors than a million theoretical ones.
Relevant: Ask yourself: does this goal make sense for your business needs? If you're drawing a huge amount of organic traffic but failing to convert any prospects into leads and eventual customers, then attracting even more visitors isn't likely to yield a meaningful result. Only put work into a goal that represents a useful development for your company.
Time-bound: Making your goals timely is important for several reasons. First, it ties into the measurement portion of your plan. If you know what you need to accomplish and how much time you have to do it in, it's much easier to plan reasonable actions. Second, it keeps you accountable. With no timeline to work within, projects tend to lag and results are lost to inefficiency.
Original Goal: Get more site traffic.
Your SMART Blogging Goal: Generate 500 unique blog visitors each month through organic search to introduce new customers to the company's latest offerings.
There's no reason to limit yourself to just one goal. In fact, it's wise to have several in place to guide your blog strategy in order to diversify content and ensure that you're getting the most out of your endeavors.
But remember, it's important above all to be realistic. Can your team reasonably serve a roster of 100 goals? And if you could, would it be useful to do so? Goals should be stated in a sentence or two to make sure that they're easy to communicate and feature clear paths for execution.
2. Identify your target audience.
It's tempting to think that you'll get the best results by blogging for everyone. However, when you blog for everyone, you aren't really writing for anyone. The best bloggers know that content marketing only works when each post is directed at a specific target audience. Otherwise, you run the risk of delivering the wrong information to the wrong individuals at the wrong time.
That means no matter how much site traffic you're able to generate, none of it will truly be worth the effort you put into driving it.
Buyer personas, also known as marketing personas, provide the solution to writing blogs that resonate with the right readers. These documents create in-depth portraits of the customers your brand most wants to reach, from details about what industry they work in and their current job title to their most significant problems and critical goals.
This may feel like an unnecessary step, especially when you're certain you know your customer base through and through. What could a document really tell you that you don't already know?
Evidence suggests more than you might think. Research conducted by Cintell in 2016 proved that brands that exceeded lead and revenue goals were more than 2x more likely to work with formally documented buyer personas than their industry peers who consistently missed the same goals. That's likely in part because data indicates content guided by buyer personas is 2x to 5x more effective and easier for visitors to utilize.
However, if you want to take advantage of the benefits of buyer personas, it's important that you build them on a foundation of thorough research. Personas based on supposition and generalities won't provide the level of insight needed to ensure each blog post your content writers produce has been crafted with your most important prospects in mind.
What makes a great buyer persona? Consider the following data points to begin assembling your profiles.
Demographics: Age, gender, geographic region and income
Career data: Industry, current role and time spent in their field, at their company and in their role
Business type: Business-to-consumer (B2C) or business-to-business (B2B)
Objectives: What is their primary goal? What do they need to accomplish in order to succeed in their job? What are they tasked with doing each day, month and year?
Challenges: What is their primary difficulty? What prevents them from achieving their objectives? What hurdles are making them less effective in their work?
Objections: What problems have caused previous solutions to fail? What prejudices do they have against the products or services you offer? What is keeping them from saying yes to your brand?
Learning resources: Where do they go to learn? How do they like to consume information? What devices do they use? How much time do they have for education?
Shopping preferences: Where do they currently buy? How do they prefer to buy? What's stopping them from making a change?
Don't have that kind of robust data on hand? Then it's time to deploy your marketing resources to collect as much information as possible. Here are just a few ways to begin mining your existing customers and relevant industry data to construct buyer personas:
Interviews with past and present customers
Polls and surveys
Analytics data
Social listening
Competitors' blogs and social media profiles
Quora, Reddit and other question-and-answer platforms
Internal resources, such as your sales team, management and other team members who interact with clients on a regular basis
This might seem like an overwhelming task. After all, collecting quality data takes time. On the other hand, having quick access to this data makes creating blog content far easier. Once you know a lead's pain points, you can offer effective solutions.
When you understand how a customer prefers to learn about new products, you can deliver the types of content they like to read. And when you know what a potential client needs to achieve, it's much easier to position your products and services as the answer she's seeking.
The image above is only a brief buyer persona sample, but it provides enough detail for a blogger to begin conceptualizing content that answers Newbie Nora's needs. These data points tell us:
She's contending with a high volume of competitors, so explaining how your services help her stand apart should be a high priority.
This is her first time managing a business. Positioning your brand as a trusted ally to guide her through the process is a great way to win her trust and help her see you as an important partner for success.
You'll also likely need to create more than one persona. That's because most businesses sell to several types of customers, and they all have distinct content preferences and needs. Consider blogging at an insurance agency, for example. Most agents serve individual consumers and businesses, meaning they will need blog content that addresses the concerns of both business-to-consumer (B2C) and business-to-business (B2B) clients.
Still, bloggers should only develop as many buyer personas as are truly necessary to deliver clearly targeted content. According to marketing expert, Mark Schaefer, on average three or four buyer personas account for up to 90% of a business's sales. Creating profiles with too much overlap results in a loss of focus and duplicated work, i.e., time better spent on blogging.
Many brands also find value in negative buyer personas. These profiles identify the customers who aren't a good fit for your products or services. Using negative personas helps companies avoid the trap of trying to accommodate everyone by narrowing the field to consumers who are motivated not only to buy, but to buy from your business.
One last note on buyer personas: keep buyer personas fresh. Your business has evolved over time, and that means your ideal customer has too. Make sure to review your profiles on a regular basis to include any relevant new information, prune erroneous data and maintain evergreen personas.
3. Get to know the competition.
You're on the right track in creating your new blog strategy. You know what you want to accomplish by blogging. You know who you want to communicate with.
Now it's time to figure out what your competition is doing and how to do it better.
If you're not spying on your competitors, you're missing an invaluable piece of your blog strategy. That's not to say that you should devote endless hours to tracking the every move of each brand in your field. Instead, it's best to identify around five competitors who offer goods and services most similar to your own. These are your strongest competition, and you're both fighting for the same pool of customers.
Whether you're a neophyte in your field or a standard bearer, there's going to be something you can learn from these rivals. With a clear understanding of their blogs' strengths and weaknesses, your writers are ready to capitalize on any mistakes and take cues from successes to build a better strategy.
Don't be afraid to spend a significant amount of time with their posts, and be sure to take copious notes. In fact, you might even want to build personas for rival brands that are similar in structure to buyer personas. With that in mind, here are the top five questions you should ask as you review competitors' blogs:
Question #1: What are they writing about, and how often do they write about it?
Why it matters: Monitoring the topics your competitors write about lets you see what their audience considers relevant. These are likely to be the most important topics in your industry, and noting the frequency with which they're covered allows you to not only identify key concepts, but see how much other companies devote to them in terms of marketing time and resources.
Additionally, you'll be able to identify profitable gaps. What's a profitable gap? It's an area of industry expertise that you can speak to, but other companies in your field aren't addressing. When you find a void in their blog content, you've uncovered a golden opportunity to fill it.
Question #2: How often do they publish blogs?
Why it matters: Everyone wants to know how often they should blog. There are a lot of articles online devoted to this topic, but the real answer depends largely on what your closest competitors are doing. If they post once a month, you should try posting twice as often, or even once a week. Are they delivering content twice a week? Then you want to outdo them by posting every day.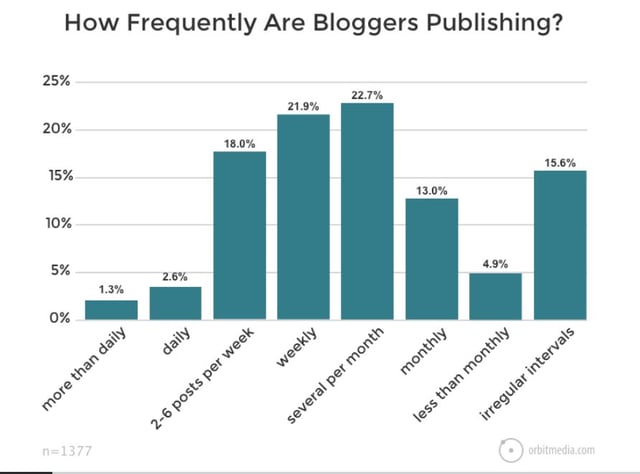 This is in part because you want consumers to see you as a premier source of information. However, inbound marketing data suggests that the benefits of frequent blogging go beyond simply establishing yourself as a thought leader. Curata discovered that 91% of the most successful business bloggers post at least weekly. Similarly, blogs that publish 16 or more blog posts per month average nearly 3.5x more traffic than their peers publishing 0-4 times per month. From brand awareness to better SERP performance, you can't afford to lag behind.
Question #3: How good is their quality?
Why it matters: Obviously, you want to deliver top-quality blog content, regardless of what other companies do. But it's a good idea to get an objective sense of what you're contending with in terms of quality. This can take a couple of forms, including:
Do they use detailed, factual information, and is it accurate?
Are their posts free from grammatical and spelling errors?
Do they dig deep into the topics they write about, or simply skim the surface?
Are their posts easy to scan and read?
Once you're aware of this information, you can use it to add value in your own posts, whether that's more detailed analysis, richer information or simply ensuring that your blog is free from glaring typos and embarrassing mistakes. And if you're not sure anyone on your staff is up to the challenge, it may be worth bringing in a professional blogger to level up quality beyond what your competitor is able to deliver.
Question #4: What's their SEO keyword strategy?
Why it matters: SEO is a dense topic and one that we'll cover more intensively in a later post. However, your competitive analysis is a great place to begin identifying the keywords that will be most useful when crafting your own blog content. There are a variety of tools that can help you analyze competitor keywords, and it's likely worth your investment to utilize one. You can also get a sense of their primary keywords by scanning the following parts of each blog post:
Page title
URL structure
Title
H1, H2 and H3 tags
Image alt text
Keywords in internal links
What if you're unable to detect a clear keyword strategy from these observations? It's possible that you're simply missing the keywords, in which case an analytical tool can save the day. There's also the chance that your competition may not be using keywords strategically. If this is the case, it's much easier for your blog content to rise above theirs on the SERP and be found by the readers you most want to attract.
Question #5: What kinds of blog posts and other content do they publish?
Why it matters: This information will be incredibly helpful in planning your editorial calendar. When you think of a blog post, the first thing that comes to mind might be simple blocks of text, maybe an image or two. If that's all your competition offers their readers, you have a wealth of opportunity to delight them with imagery, video content, checklists and more. On the other hand, you might find a huge array of multimedia content supporting their blog posts. If so, it's a good time to consider what you might create to bring additional value to your content.
It's intimidating to add other content formats to your blog, but overcoming that fear is a worthwhile endeavor. As Elin Barton of White Knight Productions notes on her blog, "the most important part of all is to just do it." As a video production expert, she understands how great multimedia content, like video, can enrich your regular posts. She notes that "It can be scary at first, but just takes a little practice, and in general, as long as you're being authentic, people will respond favorably." In short, don't be afraid of what you can't do – embrace new ideas and put your best foot forward.
As you compile your competitor research, it's important to apply the same evergreen principle you use when creating buyer personas. These brands will change and grow over time, and new businesses will enter the field. Always stay alert to current developments to be sure you're refreshing your blog strategy.
With these strategic tools in your blogging playbook, you're ready to dig deeper into the work of creating your strategy. In our next installment, we'll cover three more tactics for creating blogs that deliver results: keyword research, idea brainstorming and the editorial calendar.
Not sure how to get started with blog strategy? Speak with one of our content strategists today. They can help you shape a strategy for inbound marketing content, answer your questions and assist you in choosing the right content writing services package for your blogging needs.