by Virtucom Group Team
It you've ever remodeled a kitchen or replaced an old refrigerator after many years of reliable use, you might be familiar with the countless pieces of information you need to consider when making that purchase. Here are just a few:
Size in cubic feet
French door or side-by-side
Top freezer or bottom freezer
Finish and color
Adjustable, fixed, glass or wire shelving
Ice maker and water dispenser location
Smart technology
Auto or manual defrost
Door storage type
Energy efficiency information
And the list goes on. The amount of available information can be substantial, but it's essential knowledge if you're going to make the best purchase decision. And if you're looking for a great deal online, then you're going to need robust product attribute information to help you come to a positive choice you won't regret down the line.
Buying an appliance from an online retail site is just one example that shows how important product attributes are in a consumer's path to an informed purchase. According to this Business 2 Community article, it's agreed upon in the e-commerce world that product data is inseparable from the retail business. Yet many businesses still don't take advantage of product attributes as much as they could, and so many retail sites are missing out.
Let's dig into some advantages that product attributes offer your retail site when utilized effectively.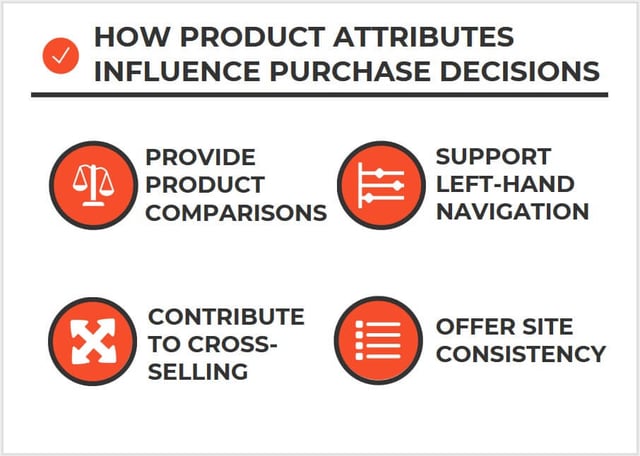 1. Product Attributes Provide Better Product Comparisons
As customers begin the journey to make their next online purchase, most won't settle on the very first item they find. Instead, an important part of the customer's purchase decision is comparing different products based on various item traits.
Think back to the last time you made a major online purchase. You probably spent some time looking around and comparing different options before clicking the "Add to Cart" and "Order" buttons. The convenience of shopping at home on our devices allows us to spend the time it takes to identify and choose the right item.
How do product attributes play into this comparison journey? Product attributes offer straightforward product information that helps customers compare the key elements of several items in contrast to the more dressed-up product description and feature/benefit statements.
A customer might only be interested in purchasing items that meet specific needs and offer a distinct set of features. The product attribute listing helps point out important product specifications without requiring the browser to dig through the longer copy points found on the product page, saving time and effort.
Product attributes also assist with building comparison tables that are often found on product pages for complex items like computers, televisions and appliances. Allowing customers to view a grid with product attributes laid out for several similar items helps make the comparison process even easier by providing all the relevant information in one helpful table.
2. Product Attributes Support Left-Hand Navigation
Filtering options included in left-hand navigation are essentially an interactive way of presenting product attributes to browsing customers. Even before customers land on a specific product page, left-hand navigation allows them to narrow down a broad search by selecting or excluding specific attributes.
And, as we've mentioned previously, being able to filter through search results on your retail site will allow customers to search more efficiently, spending less time wading through product listings that don't meet their requirements, and more time heading toward an informed purchase decision.
3. Product Attributes Contribute to Cross-Selling
Thorough product attribute listings include compatibility with related items that customers might also be interested in. Product attributes can specify a certain type of battery required to use an electronic device, or a specific wall mount that's compatible with a television, for example. These extra items can then be identified in a product data management system and presented in a "related items" section to help cross-sell other products that meet the customer's needs.
Not only does this product page feature help boost sales on your retail site, it also helps create an easier, more efficient shopping process that customers will appreciate and take advantage of time and again.
4. Product Attributes Are Essential for Overall Site Consistency
Don't forget – each of the aforementioned ways that product attributes are important depend on normalized, cleansed product data. When applied correctly, product attributes form a foundation for consistency on your retail site that customers are looking for. After all, without consistency in listed values, ordering of attributes and the set of information offered for products of the same product type, customers wouldn't be able to effectively compare items and narrow down their searches.
Product Attributes Form the Foundation of Purchase Decisions
As long as your site's product attribute system is normalized and complete for all product types and on all product pages, you're headed in the right direction to positively influence browsing customers' selections. Each of the previously mentioned ways that product attributes help customers learn more about the specifics of each product offered for sale on your site are essential to earning your customers' trust and not losing them to competitor sites.
It's clear that an effective product attribute system is a key factor in a winning e-commerce content strategy that attracts browsing customers to your site for purchase after purchase. But if your retail site doesn't hold up to the current product attribute standards outlined in this post, it's not too late. Virtucom Group's data solutions can transform your site's inconsistent product specifications into a neatly organized, easily-navigable product attribute system browsing customers can rely on. Contact us today to learn more.