by Virtucom Group Team
It's an almost universal fact: the prevalence of online shopping is higher than ever, and continues to grow as we make our way into 2018. Of course, with growing popularity comes growing competition among online retail sites. In order to outshine their competition, online retailers can look to the differences between online and in-store shopping to ensure they're offering the kind of experience customers won't pass up.
When seeking to recreate the in-store experience, digital assets are likely to be the first element that comes to mind. High-definition images, 360° views and videos are all essential to boosting consumer confidence, but there's another aspect of brick-and-mortar shopping that's all too frequently overlooked: the presence of accessible customer service representatives who can offer further product information and quickly answer customers' questions about product details and features.
So how can e-commerce retailers replicate this resource in the virtual realm? The answer lies in detailed, accurate, fully standardized product data. Normalized product data greatly improves retail site functions, leading to an enhanced customer experience and a better buyer's journey that can rival that of in-store shopping.
Let's explore some of the ways accurate, normalized data sets the stage for an optimal online retail shopping experience.
Normalized Product Data Yields Product Naming Consistency
Product names are likely to inform a customers' first impression of a retail site, since they might be the first piece of information encountered when browsing or searching for an item. If there is too much variation between product names, especially product names for items in the same product category, it becomes difficult for customers to easily draw comparisons.
For example, suppose you're shopping for a stock pot on a retail site. You encounter some product names that tell you the brand, size, material and color, while others will only tell you one or two of these important factors. Without each piece of information for each product, it becomes incredibly difficult to find the stock pot that's right for you.
The first impression a product name creates can influence the rest of the shopping experience. According to a recent post from Moz, customers spend an average of 3 minutes and 49 seconds on a retail site – so each second matters. The same study showed conversion rates were most benefitted by increased time on site and increased number of page views. Without consistent product naming, customers may not even make it beyond the listing page before they head to a competitor site – meaning that product naming formulas can have a big impact on the bottom line.
Normalized Product Data Provides Easy Filtering and Product Comparisons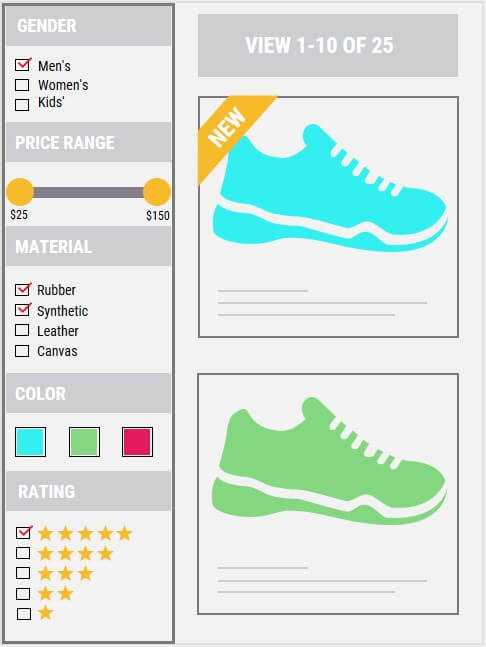 Another way customers compare products on retail sites is through filtering attributes found in the left-hand navigation panel. By choosing to filter their search results so only products matching certain features are shown, they are able to quickly identify products they're interested in purchasing.
However, if not all product information on a retail site includes robust and normalized product attributes, the filter results will be incorrect and misleading. For example, if only a portion of the running sneakers listed on a retail site include an attribute value for foot pronation, a customer with special orthopedic needs will most likely have a frustrating time finding a suitable pair, since the filter results will be minimal and non-inclusive. Similarly, if the filter options for boots show checkboxes for heels that are both 2 in. and 2" high, customers will be left confused or with incomplete filter results.
Normalized Product Data Helps Eliminate Errors and Discrepancies
When product data is normalized, the data is also cleansed thoroughly in order to identify and resolve misinformation and confusing discrepancies – which we've previously shown to be a major challenge in product data management.
Clearly, incorrect product data, or information that varies throughout the product display page, is going to make customers feel less confident. It then becomes imperative that data cleansing is implemented to ensure all product data on the retail site is accurate and specific to the unique items displayed on each individual product page.
Let's say you and a competitor both feature the same microwave as a weekly deal. Your site calls out the wattage as both 800W and 1200W and the finish as both red and stainless steel and gives contradicting information about whether or not convection technology is available.
Your competitor, who prioritizes data management, calls out these values consistently throughout their product page. This allows shoppers to make more informed choices, compare items efficiently to similar products and complete the checkout process with a sense of trust.
The result? A potential customer seeking a 1200W stainless-steel microwave with convection technology turns to your competitor for this sale, and potentially many more in the future.
Normalized Product Data Provides Clear, Informative Product Attributes
Blank or incomplete consumer-facing attributes are another aspect of poor product data management that creates doubt and confusion in the minds of browsing customers. Once doubt and lack of confidence in the product information are generated, customers are likely to navigate to a competitor's site where more robust product data can be found.
With normalized product data, all attributes available for a certain product type are populated with a correct value, offering the customer valuable insight into specific product features and technology. If an attribute value cannot be confirmed, the attribute will not appear on the page at all, since blank attribute fields can result in customer confusion. For example, a blank attribute field for "Moisture-wicking design" could indicate that the product does not feature that particular technology or that the information is simply not known.
While online retailers can't supply an in-person team member to walk customers through each purchase by implementing normalized product data, they certainly can enhance the customer's online shopping experience by offering thorough, consistent product data that leads to more purchases and increased brand loyalty. If your online retail site is feeling the pressure of increased competition in the e-commerce world, it's time to consider the far-reaching benefits of cleansed, normalized product data that can give you a step up above your competitors. Get started by learning more about Virtucom Group's data solutions that can get your retail site headed in the right direction this year.