by Virtucom Group Team
Yesterday, The Bon-Ton Stores president and CEO Bill Tracy announced the closing of 47 brick-and-mortar stores – nearly 20% of its retail locations – as part of a restructuring plan announced in November of last year.
But in the face of fierce online competition and an oversaturated retail landscape, The Bon-Ton Stores isn't alone. Across the nation, retailers are closing up shop and leaving once thriving spaces behind.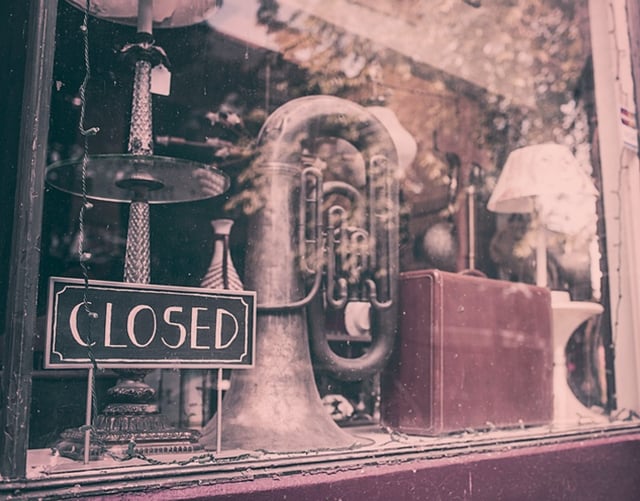 Yet, what many refer to as a "retail apocalypse" is not really an apocalypse at all. Instead, it's a retail revolution, and it's happened many times before. For instance, during the 1960s, big-box stores revolutionized the American retail landscape by offering an extensive variety of goods at discounted rates. However, as these large retail establishments began cropping up across the nation, mom-and-pop shops were undercut by wholesale prices, forcing the hand of small businesses that could no longer compete.
A half-century later, large retail chains and supercenters aren't immune to the proliferation of online shopping. According to CNNMoney, 2017 saw more brick-and-mortar store closings than any other year on record, claiming more than 8,000 retail locations, and this year, over 12,000 stores are expected to close, pushing already struggling shopping malls to the brink of extinction.
If it seems that retailers are vanishing into thin air, it's because they are. Shifting from physical locations to e-commerce sites, retailers are positioning themselves for future success by shedding underperforming stores and reallocating funds to invest in an effective e-commerce content strategy that relies on unique product pages and high-quality product data. To survive this profound period of transformation, retailers must understand why shoppers choose to buy online and adjust their tactics to suit a new generation of consumers.
Most Customers Research First
Thanks to the Internet, customers are more informed, connected and empowered than ever before. According to a 2016 report by Forbes Insights in association with Synchrony Financial, 86% of customers conduct research online, but 46% of those still prefer to make the final purchase in store.
Before the advent of the World Wide Web, shoppers would enter a retail store, ask an associate about the item they were looking for and rely on his or her recommendations to make an informed purchasing decision. Today's consumers use search engines to research products, essentially cutting out the need to speak with a representative.
In the current retail environment, online retailers need to take charge of the customers' purchase path by creating highly detailed product pages fueled by rich, accurate product data. Publishing SEO-friendly, unique product copy along with in-depth product descriptions gives customers the information they're searching for, contributing to higher conversion rates.
Online Shopping Is Convenient
Customers no longer feel pressured to battle crowds or brave inclement weather to take advantage of great deals. With the Internet, shoppers can enjoy 24/7 shopping convenience without the hassle of leaving home, letting them take their time to conduct research and have confidence in their buying decision.
As online shopping rolls into the next decade, the clock's ticking on retailers to not only get their products online, but devise better data management strategies and build unique product pages designed to rise to the top of SERP rankings.
Online retailers are the big-box stores of the new millennium; they're able to offer a full range of products without being limited by the square footage of a retail space. For example, Amazon built an empire on presenting consumers with nearly indefinite options in a broad range of categories, extending from grocery to home improvement, apparel to electronics and beyond.
Online retailers also benefit from having access to a larger pool of shoppers. Traditionally, retailers could only serve the regions in which they were located. Now, e-commerce retailers allow buyers to shop from anywhere in the U.S., as well as from around the world.
However, this variety translates to an increased need for quality product copy and the product data and assets that fuel it. Incomplete assets, missing attributes and conflicting information can all compel shoppers to visit a different retailer with a similar product assortment. And while there was always the risk that a customer might take their business elsewhere, in today's online marketplace they no longer need to get back in the car and drive across town to do so.
It's Time to Get Your Products Online
To be competitive in the current retail landscape, your business needs an efficient e-commerce content strategy that grabs the attention of online shoppers and converts visitors into buyers. However, your product copy is only as good as the data you use to create it. For an item onboarding and product data management solution built for the modern retailer, turn to Virtucom Group.
In our zero-maintenance service, we increase your speed to market by eliminating delays due to incomplete or inaccurate information, so you can get your entire inventory online in a short amount of time. Once our team has acquired your suppliers' entire e-commerce catalog, we'll get to work crafting detailed product descriptions and feature/benefit statements that drive SEO. To learn more about what Virtucom Group can do for you, contact us today.