by Mike Shaughnessy
I'm handy around the house, but not in the way my dad is. I swear that man can fix anything. Growing up during the technological revolution we've experienced over the past 30 years, I'm one of those people who will go straight to the Internet to find the "how-to" information I need to cross off items on my to-do list.
With the help of how-to videos on YouTube, I've fixed my washing machine, tuned up my road bike and swapped out a broken Blu-ray Disc drive on my PlayStation for a new one. YouTube is really the secret to my success when it comes to fixing things – it's an incredibly valuable content platform to me and more than a billion users.
There's also so much content on YouTube that it's incredibly easy to get sucked down a rabbit hole. One minute you're watching NBA Slam Dunk competitions from the 80s, and several hours later you're watching music videos from when you were in high school. The volume of content on YouTube (300 hours of video are uploaded every minute) can make marketing on YouTube a daunting prospect.
If you're running a business and you haven't yet explored what YouTube can do for you, you might be wondering how you can use this vast video platform to reach your audience and drive traffic to your blog and website. In this post, we'll show you how to cut through the clutter and cat videos to effectively promote your blog and your brand with YouTube.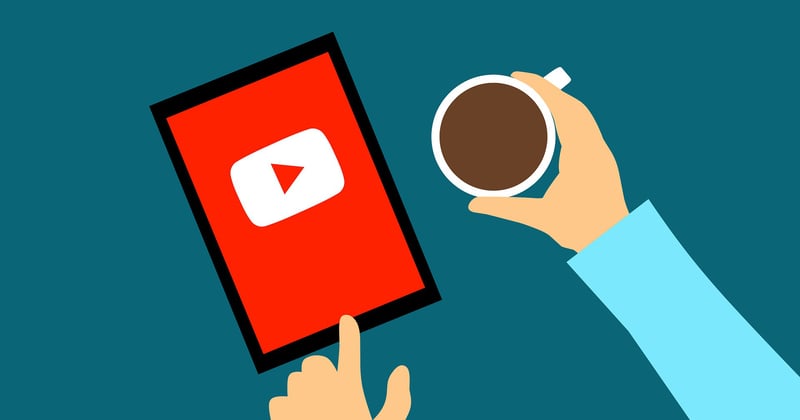 Why Videos Need to Be a Part of Your Digital Marketing Content Strategy
In a previous post, we talked about the benefits of visual storytelling and how important it is to tailor your content to fit your target audiences and the platforms they're using. Videos are one of the most effective types of visual storytelling. In fact, using videos has been found to boost organic traffic from search engines by 157%, with 46% of people wanting to view more content after watching a branded video.
It's no wonder that research by Magisto showed companies were intending to spend nearly twice as much on online video production in 2017 than on traditional TV spots.
Why You Should Be Marketing Through YouTube
Did you know that YouTube is actually the 2nd largest search engine on the Internet? Here are a few mind-blowing facts about the site:
There are currently 1.3 billion (yes, with a B) users
More than 1 billion hours of video are viewed every day
300 hours of video are uploaded to YouTube every minute
YouTube is currently the 2nd largest search engine, behind Google, compiling more hits than Bing, AOL, Ask and Yahoo combined
There are a number of video hosting platforms online, but YouTube is your best bet for hosting your company's videos. Here's why:
YouTube is extremely cost-effective. If you have the means and the equipment to produce videos for your blog, YouTube is a great platform for hosting them. It's free to sign up for the site – even for businesses – and you can upload unlimited amounts of content for free.
As I mentioned above, YouTube is the 2nd largest search engine, and videos even appear in the Google search results. Research shows that adding a video to your website improves your chances of landing on the Google front page results by 53 times.
YouTube is also incredibly popular on mobile devices, with more than half of the views coming from those devices. With more than 1 billion hours of video added each day and smartphones and tablets readily available, there are a lot of eyes ready to view your content.
Plus, YouTube offers free analytics tools, ranging from views to more advanced metrics, so you can stay on top of your visual content marketing strategy.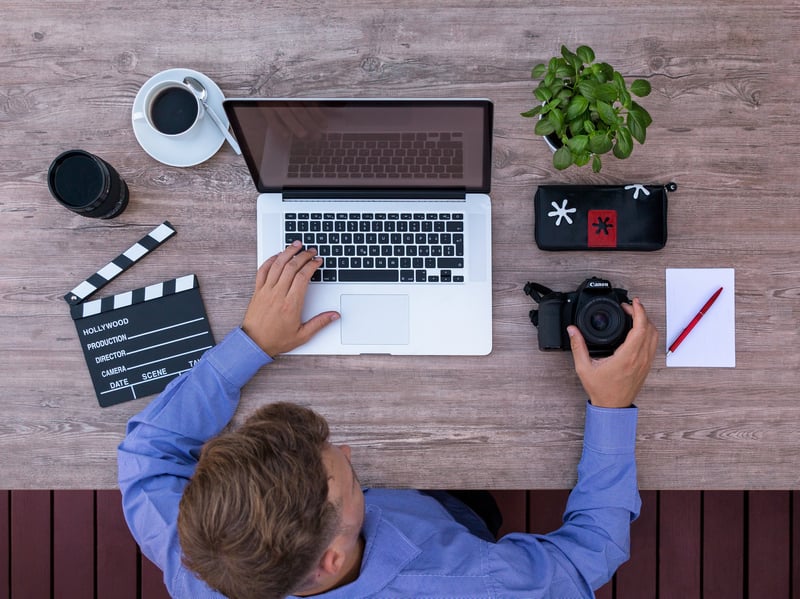 Maximize Your Content Writers' Words with Videos on YouTube
Studies have shown that viewers retain 95% of a message when it's in a video as opposed to only 10% when it's in text alone. If you want people to remember your brand, posting videos on your YouTube channel is a great tactic.
Marketing your blog through YouTube gives you a chance to showcase your company's products and services in interesting and engaging ways. For example, the Virtucom Group YouTube Channel offers videos with content marketing tips, as well as an informative look into our services.
There are many ways you can leverage video content on YouTube to showcase your business, no matter what your business is. Here are a few examples:
Health Care Services
Doctors, nurses and paramedics can cover health topics, ranging from the benefits of getting a flu shot to performing CPR. Patients may also find it helpful to watch informational videos that discuss an illness or condition that they've just been diagnosed with.
Florists
Not only are videos a great medium for showing off stunning arrangements and beautiful centerpieces, it can be a helpful way for florists to educate customers on the care of their flowers. Before visiting the florist's website, viewers could learn how to properly prepare their bouquets after arrival, so the flowers remain beautiful.
Auto Repair
Body shops can instruct vehicle owners on the benefits of regular maintenance, such as oil changes, tire rotations and wheel alignments, to help prevent costly repairs down the line. They could also offer a series of short how-to videos relating to performing simple upkeep, like checking tire pressure, checking the oil and refilling the washer fluid.
Through these types of informational videos, you'll be able to build a rapport with your viewers while also helping your company appear friendly and approachable.
Remember Your Audience When Marketing Through YouTube
With more than 1 billion users, there's a lot of opportunity to get eyes on your YouTube videos. But remember, it's not about the number of views. The audience is what matters. What's the point of hitting the refresh button on the stats page to see the views climb into six or seven figures, if those viewers aren't your target audience? You still need to create content for your key demographics and the buyer persona you want to attract – just like when you're blogging.
As we've mentioned before, you want all of your content online to be original, authentic and relatable, and video content on YouTube is no exception. When promoting your blog with YouTube, you want your videos to offer supplemental information or summarizations of your blog posts. People don't want to watch you recite your blog post word for word. Instead, what they want is the high points and maybe a few unique ideas. After viewing, they can always click on your link to read the blog post in depth.
Viewers want new and engaging content that will make them want to visit your site. I'm reminded of Ron Popeil's infomercials, and his phrase, "But wait, there's more!" Ask yourself, what extra content could be derived from my blog post? You could create a supplemental video offering a real-world scenario or a testimonial from a client that will entice viewers to see what your blog posts are all about.
Make Sure Your Content Writers Keep the Video Scripts Short
On average, YouTube videos are 4 minutes in length. In the past 2 decades, humans have seen a decrease in their attention spans (from 12 seconds in 2000 to 8 seconds today).
The reality of short attention spans is abundantly clear in the retention rates of YouTube videos:
60% of viewers will watch to the end if the video is less than 4 minutes long
75% of viewers will watch to the end if the video is less than 2 minutes long
Not every video you produce needs to be less than 2 minutes, but when you're making a video, it's a good idea to continuously ask whether each of the elements in your video is necessary. If you can shorten it without losing value, it's probably the right move. If your video goes longer, make sure there's a purpose behind doing a lengthy video, such as providing in-depth training.
Marketing Videos on YouTube Need CTAs
As is the case with all other forms of marketing content, the ultimate goal of your video is to drive some sort of action on the part of your audience. When you're crafting a call-to-action for your video, you need to be clear. Viewers need to know what to do, how to do it and why they should do it. If your goal is to bring more traffic to your website, the CTA should link back to your website or blog. If your goal is to gain more subscribers, make sure you include a subscribe button.
YouTube offers a host of tools to help you take control of your video content marketing strategy. A call-to-action can be placed in the video description, as well as in the video itself.
You should make sure to write one to two paragraphs of content to sum up the video and place it in the description. The description should be bookended with your blog's URL, and the call-to-action should be placed near the beginning. This way the viewer doesn't have to hunt and peck to find your content, as after watching your video, they'll feel engaged and ready to take action when they arrive at your site - which encourages conversion rate growth.
There are several options for adding interactive CTAs to your videos, including cards and CTA overlays, but one of the newest and easiest options is the YouTube End Screen. You can add up to four elements, including a subscribe button, videos, playlists, other channels and links to approved websites (note: to include websites, your channel needs to be in the YouTube Partner Program). End Screens can appear in the last 5 to 20 seconds of your video and are mobile-friendly. They're a great way to improve engagement with your audience because they give viewers a place to go after watching your video.
Spread Your Message with a Visual Content Marketing Strategy
Visual content provides a fast, easy way for your audience to take in your message and learn about your blog and company. YouTube ranks just behind Google in search engine popularity, and videos even show up in the Google search results. By making engaging and entertaining videos for YouTube and including clear and specific CTAs, you'll drive traffic to your blog and improve your conversion rates.