by Virtucom Group Team
When it comes to designing an effective pay-per-click (PPC) ad, you have to throw away everything you know about conventional landing pages.
Forget the format, forget the content and forget the design. All clear? Okay, now you're ready to start creating a PPC landing page that'll get you the conversions you hoped for. You paid for the advertisement to bring visitors to your site, now it's up to you to get them to take the next step – and we're here to teach you how.
Step #1: Find One Specific Query to Address and Stay Focused On It.
Before you even create the ad or the PPC landing page, you need to think about who your target audience is and what they're looking for. Research has shown that visitors who click on PPC pages are seeking out specific information and are usually ready to take action, which is why these pages can be so effective at lead generation when they're done correctly.
WordStream reports that 64.6% of users with the intent of purchasing a product click on PPC ads.
This also means that simply linking to your home page from the ad isn't going to cut it. PPC visitors don't want to dig through tons of information or search through your entire website to find the answer they are looking for.
So as you craft your PPC landing page, try to stay focused on the relevant keywords—and that's it. If a searcher wants to buy replacement windows, don't talk about replacement doors in your PPC page, too. Create a separate ad for that. Always create a separate ad for each individual query that you're answering. You can be as thorough as you need to be while addressing their question, as long as you don't stray from the topic at hand, or you'll risk losing the conversion.
Step #2: Eliminate All Distractions.
Since the goal of a PPC landing page is to get visitors to click on your call-to-action (CTA), the entire page has to be designed around that purpose. Don't give them the opportunity to direct their attention elsewhere.
To accomplish this, remove all navigation bars from the top, sides and bottom of the screen. You'll also want to keep hyperlinks to a minimum. Aside from the CTA, some PPC pages might have links to privacy information and terms of service, but if the link doesn't enhance the user's experience, it should be removed.
This is a major part of the reason why PPC landing pages tend to look quite different from the other landing pages on your website. Here's a side-by-side comparison of a PPC page and a regular landing page for Liberty University School of Law. Though they're focused on the same general topic, they're visually very different.

Step #3: Create an Optimized Header.
Though PPC landing pages don't have a navigation bar, you should still have some sort of header. Here, you'll create a brief headline with an optional sub-headline. Make sure the headline is complementary to the text used in your ad. It doesn't have to be a word-for-word match, but it should be similar enough that visitors can feel confident they've clicked on the correct page and that it's going to offer the information they're looking for.
The header also usually includes the name and logo of your company and some contact information. In case visitors want additional details before filling out your form, you need to provide an easy way for them to get in touch with you, including your phone number, e-mail and address.
Make sure your contact information is optimized for mobile, so a user viewing your PPC landing page can simply click on your phone number or e-mail, and their smartphone will automatically place the call or launch the e-mail application.
Step #4: Design the CTA.
PPC landing page CTAs are not to be confused with the typical landing page call-to-action buttons. For example, you might be used to seeing the CTA at the bottom of the page or in the sidebar, and they tend to take up less space on the page.
But as mentioned, the CTA is the most important piece of a landing page for PPC, so it's going to look a little different. Here are some common best practices to follow for creating an effective call-to-action:
Use strong, verb-oriented language
Make it clear what you are asking the visitor to do and what they will receive in return (example: Enter Your E-Mail to Download Our Brochure Now)
Keep the form simple; there should be less than 5 input fields
Make it stand out from the page with contrasting colors
Make it large enough to grab the visitor's attention
Place it above the fold; you want visitors to immediately see the CTA without having to scroll
You should also add multiple invitations to action throughout the page, especially for landing pages that are lengthier and more information dense. Notice that the Liberty University School of Law page referenced earlier has two more call-to-action buttons in addition to the main CTA.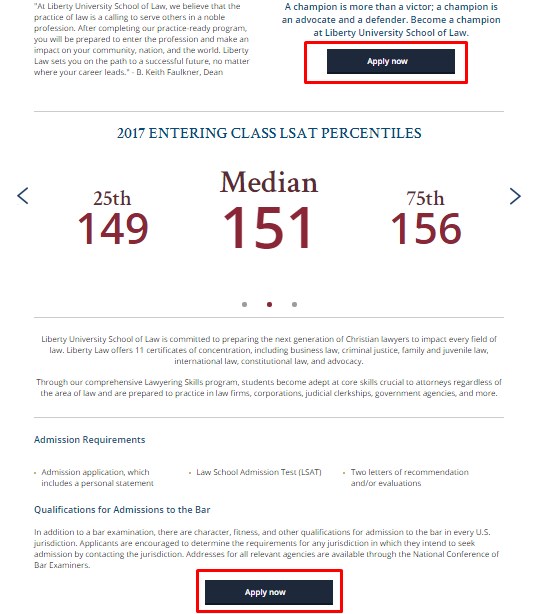 Step #5: Add Images that Support the CTA.
Thoughtful imagery can help support the call-to-action's message and even draw the eye toward it. Instead of basic stock photos, opt for visuals that truly capture what you're trying to communicate. Depending on the subject, a photo that plays to the visitor's emotions and pain points might also be a good choice.
If possible, try to orient the image so that it's pointing toward the CTA. This especially applies to photos that feature people. Take advantage of the way they're facing or have their heads turned to subtly point visitors to your CTA.
And make sure any images you use are compressed, so they don't reduce the overall speed and load time of the page.
Step #6: Craft Compelling Copy.
Now it's time to add some text. Include an explanation of your product or services with fleshed-out benefits. Feel free to add as little or as much content as you see fit. There's no right or wrong length for PPC landing pages. Longer pages tend to make sense for bigger commitments—like law school—but don't spend too much time worrying about the length. Just make sure all the important information is represented for the specific query you're addressing.
When applicable, testimonials, reviews, accreditations and other trust signals can help increase the likelihood of getting a conversion.
Step #7: Test, Analyze and Update the Page.
Once your pay-per-click landing page is complete, run some tests to see how user-friendly it is. Does it load quickly? How does it look on mobile devices? And then, once it's up and running, monitor the analytics to see how people are responding to it. Experiment with different headers and CTA configurations to find a layout that gets the best results. If the ad is running for an extended amount of time, be sure to keep the copyright and any deals or promotions up to date.
And finally, create a thank you page to go along with the PPC. This is the page that appears after a visitor has filled out the form or made a purchase. You can use this page to confirm that their e-book download is on its way to their inbox or offer additional contact information.
Content Matters: Make It a Priority Today
Present the best PPC landing pages possible with help from expert content writing services. Whether you're in finance, education, home design or any other industry, your compelling PPC ads and landing pages are just a click away. Contact Virtucom Group to take care of the copy, so you can focus on your customers.