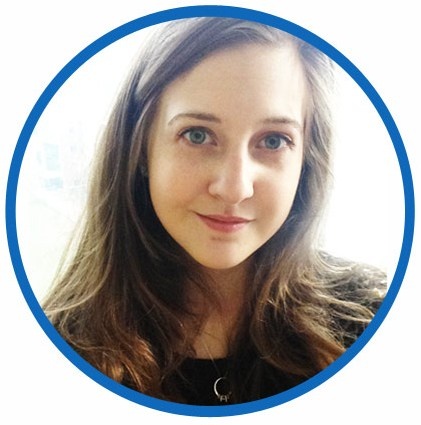 by Caleigh Gran
Think back to when your company first started growing its social media presence. You probably created a Facebook page or a LinkedIn account first, and then added Twitter or Instagram to your strategy soon after. Perhaps someone suggested Pinterest, but you ultimately decided it wasn't a good fit for your specific industry – especially if you're a B2B business. After all, only the retail, home, food and wedding sectors perform well on Pinterest, right? Well, new stats suggest it might be time to re-think that decision.
As a direct result of seeing brands and products on Pinterest, 87% of all users have made at least one purchase
61% of users say they've discovered new brands or products from promoted pins
Pinterest's 2017 internal marketing data revealed a 40% increase in users over the previous year
As these stats indicate, there's certainly opportunity for companies to capitalize on Pinterest's increasing growth. It's proven to be an excellent way to circulate blog content to new audiences, delight existing customers and drive traffic back to your website.
Unfortunately, many companies are hesitant to invest resources into Pinterest because of the misconception that it's only useful for a handful of industries. And while it's true that some categories may be more popular than others, they're definitely not the only ones. Pinterest's slogan, "Pinterest for any Interest," speaks to that.
In fact, did you know that Intel, IBM, AllState, FedEx and Bank of America all have a sizeable Pinterest following? Even hospitals, law firms, subcontractors and others have been able to carve out a niche on the platform.
Convinced yet? Keep reading to see our step-by-step guide for starting, operating and optimizing your Pinterest business profile.
Step 1: Set Up Your Business Profile for Success
It's easy to get started on Pinterest – just convert your personal account into a business profile or go ahead and create a new one. This is important, because a business profile provides access to analytics tools that you can use to understand your audience and monitor each pin's performance. It will also give you the option to become verified, so that your audience can recognize you as an authentic account.
Once you've filled out your company's name and bio and added a photo, it's time to start creating boards. If you're not familiar, boards are basically folders used to organize different types of pins – or content. For example, many businesses like using Pinterest as a way to distribute company blog posts. This lets you educate consumers on your offerings without directly advertising or giving a hard sell. You can use boards to organize blog post topics, as well as other types of content.
Depending on your company and your audience, you can get creative and make a wide variety of different boards. Here are just a few ideas to help get you started: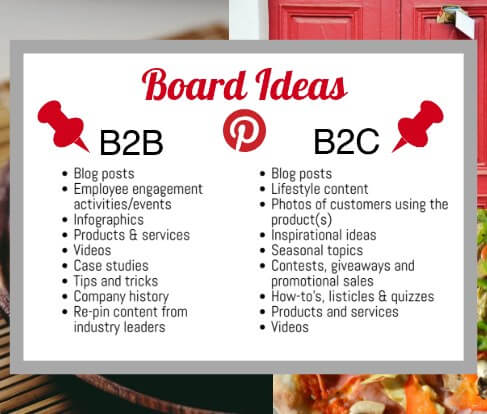 Step 2: Pin Targeted Content for Your Audience
At this point, you're ready to start pinning. But before you do, take a look at some of your competitors' Pinterest accounts. Ask yourself:
What kinds of boards do they have?
What kind of content are they pinning?
What appears to be the most popular with their audience?
Since there will probably be a fair amount of crossover between your audience and theirs, studying their profile can offer some valuable insight.
If your competitors aren't active on Pinterest or aren't using the best practices as outlined, this could be a good opportunity for your business to take the lead on a platform that hasn't yet been saturated.
Another thing you can do to optimize every pin is to incorporate keywords and a call-to-action (CTA) in the description. Keywords will help your content show up in search results, both on Pinterest and on Google, and help boost your SEO. A simple CTA can help convert readers into buyers, so it's essential that you focus on making yours truly engaging and actionable in every instance.
If you plan on pinning blog posts, here are a few other tips to keep in mind:
Create one board dedicated to blog posts, and give the board the same title as your company blog.
If your company produces a high volume of blog posts, be careful not to inundate your Pinterest followers with them. In this case, choose your best content and do a careful assessment of what your audience will be most interested in.
Don't just pin blog posts. Make your account more dynamic and relatable by sharing a range of different content. Checklists, infographics and videos are all great options.
With every blog post you pin, make sure you include a direct link back to your website. From there, pinners will be able to find more content and continue through the phases of the buyer's journey.
Enable Rich Pins, which allow you to craft better, more eye-catching descriptions.
Always include a high-quality image with every post.
Step 3: Create Attention-Grabbing Images
Similar to Instagram, visuals are extremely important on Pinterest. Not only do high-quality images help attract readers, but they also reinforce your brand image. Photography equipment and editing software can come in handy for this, but you don't necessarily need them. Here, we'll teach you how to acquire great images and how to optimize them for Pinterest.
Selecting images. If you don't have a bank of original images on hand, there are plenty of stock photo sites available. There are subscription-based photo sites that you can purchase from, as well as free sites, like Pexels, Pixabay and Unsplash. You can also create and pin infographics.

Most stock photos will be high-resolution images, but if you do use your own photos, make sure they aren't blurry, grainy, too dark or too small.
Pictures with warm tones tend to perform better on Pinterest.
Always opt for a close-up shot when possible.
Pinners gravitate more towards objects than faces.
Try not to use simple white backgrounds. Instead, go for backgrounds that help tell a story that your audience will relate to.
All photos should be a minimum width of 600 pixels.

Optimizing Images. Now that you have a photo to use with your pin, there are ways to make it stand out even more.

If it's not already, crop the image so that it's vertically orientated. You want it to be taller—not wider—so that it takes up more space on the dashboard and demands your audience's attention. Vertical images also look better when viewed on a mobile device.
Add text overlays using Photoshop, Venngage, PicMonkey or other photo editing tools. Some, like Canva, even feature a Pinterest template to help make it easier.
If you're going to add branding to a photo – like a company logo – keep it subtle.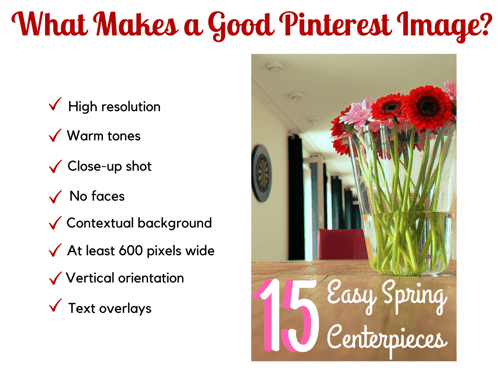 Step 4: Use a Pinterest Strategy to Grow and Maintain Your Followers
As you continue to pin and share content with your followers, keep an eye on the Pinterest Analytics tools. They'll help give you an idea of who your audience is, what time of day they're most active and what their other interests are. It'll also show you which pins of yours are performing the best. With all this information, you'll be able to refine your Pinterest strategy moving forward.
You should also try to pin often and consistently. Sites like Tailwind and Viralwoot can help you set up scheduled pins. According to Elna Cain from the Blogging Wizard, the life of a pin is one week, as compared to 24 minutes for a Tweet and 90 minutes for a Facebook post. This could mean the content you share on Pinterest leads to a higher ROI than it would on other platforms.
And finally, make sure your company blog is optimized for Pinterest. Add the Pinterest widget to every blog post, so that readers who want to share your content can easily do so.
With these tips in mind, hopefully you feel more confident about starting and successfully using a company Pinterest account and folding it into your existing inbound marketing strategy. No matter what industry you're in or who your audience is, increasing your web presence in any capacity will only create the opportunity to reach more prospects and influence their purchase decisions with your content.
Need more blog content to share on your Pinterest page? Virtucom Group can help. With a team of expert content writers and content strategists, we'll deliver high-quality content targeted to your specific audience.