by Virtucom Group Team
Every second, Google processes over 40,000 search queries. That's more than 3.5 billion searches per day and just about 1.2 trillion searches per year. Odds are, you've probably turned to Google Search or another search engine to ask a question recently, and perhaps, you noticed a descriptive box at the top of the search engine results page (SERP).
In this post, we're going to delve deeper into these descriptive boxes, called featured snippets, and explain why you should strive to have your website featured. We'll also go over some ways to optimize your site for Google's featured snippets, as well as featured snippets on Bing.
What Are Featured Snippets on Google SERPs?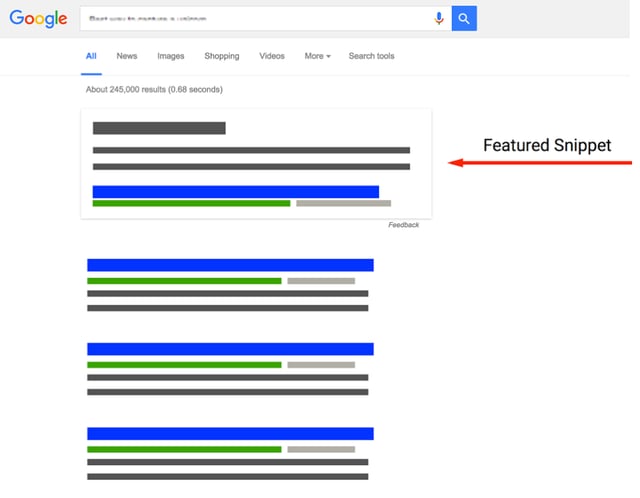 First introduced in January 2014, Google's featured snippets often appear in a special block at the top of the SERP when a user asks a question. Inquiries that may elicit a featured snippet include:
As seen in these examples, a featured snippet includes a summary of the answer, which is extracted from what a visitor sees on the webpage, as well as a link to the page, page title and URL. Instead of displaying only meta descriptions, the search engine programmatically determines what content on a particular website is most likely to answer the user's question, and then displays this information prominently to command attention.
Google's featured snippets are designed to be easy to read, letting users effortlessly discover the information they're seeking. As of right now, there are three types of snippets for written content: paragraph, list and table. Depending on the query, the Google SERP will display a format that best fits the question asked.
Due to some recent changes, featured snippets aren't just for written content anymore, either. Now, a search may draw up video featured snippets that jump the user to the right place in a video that answers his or her query, like in the example below: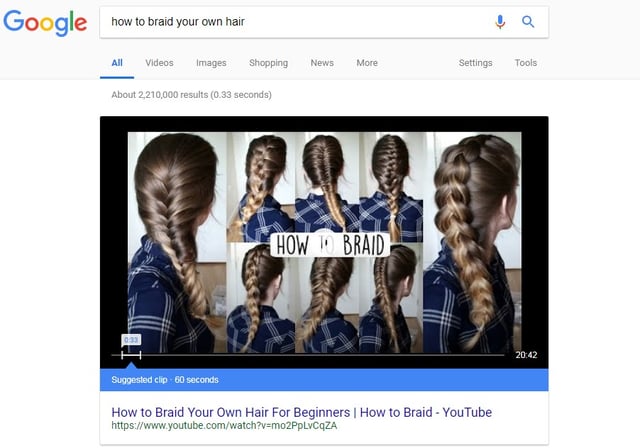 What Do Featured Snippets Look Like on Bing SERPs?
Although Google held over 87% of the worldwide market share of search engines in December 2017, Bing leads in terms of longer search queries, beating out Google and other platforms like Yahoo, AOL and Ask. As expert writers know, longer search queries make it easier for websites to rank for long-tail keywords. And so, you should never neglect to optimize your site for all search engines.
Like Google, Bing uses featured snippets to help users find answers fast, as seen in the following example: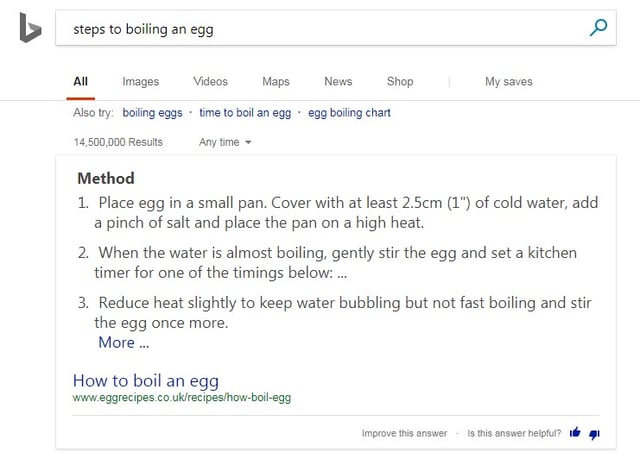 While not as widespread as Google's featured snippets, Bing's snippets are beginning to show up more frequently, helping users solve their queries in record time. However, where Google only shows a small fragment of the answer, encouraging users to continue to the website for more information, Bing inquirers often have the option to click an arrow to expand the text to dive deeper into the information directly from the search engine, as witnessed below.

Why Do SERPs Use Featured Snippets?
Now that you know what featured snippets are and what they look like on Google and Bing, you may be wondering why SERPs even use these descriptive boxes.
According to recent data released by StatCounter, mobile traffic has surpassed desktop traffic worldwide, claiming 51.95% of the market share in February 2018. During that same period, desktop market share was at 43.98%, for comparison. Because of their useful, easy-to-read format, featured snippets lend themselves well to mobile search.
Along with the upsurge in mobile traffic, voice-activated digital assistants are becoming increasingly popular. As voice queries become more frequent, featured snippets will prove exceedingly lucrative, helping users get the answers they desire without having to type a single world.
But while featured snippets can be extremely helpful, they're not the be-all and end-all for search queries. Instead, they serve as a single source for information that encourages users to browse other links to gather more information from a wide range of sources.
How to Optimize Your Website for SERP Featured Snippets
Whether your page is ranking in the top spot on various SERPs or in the sixth slot, Google and Bing will pull site content based on user query and content relevance – not on domain authority.
Take a look at the featured snippet below that draws information from one of our blog posts. When this blog post was written, the keyword "managed product data service" was ranking second in search engine results. However, our website was still used as the featured snippet for this query.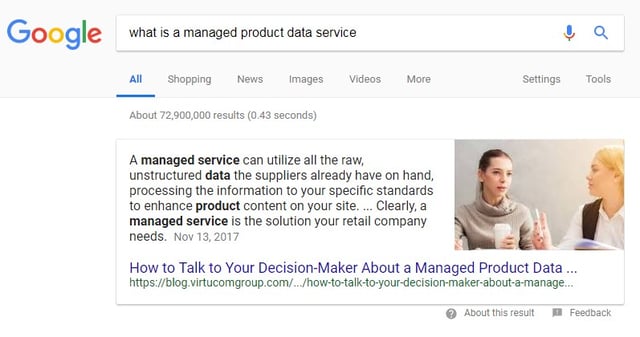 According to speculation, Google text snippets have a 320-character limit. But this doesn't mean that you need to go back to every single one of your blog posts and update their meta descriptions. While it can't hurt to revisit descriptions on important pages from time to time, featured snippets are more likely to pull info directly from the body of your content.
From this point forward, it's essential to think beyond traditional SEO techniques, and start thinking like a user. What kinds of questions might a user ask? Which long-tail keywords are searchers likely to include in their queries?
Using a keyword research tool can help you find long-tail keywords with moderate to high search volumes. Once you've detected the right keywords for your site, come up with a range of specific topics centered on that keyword that are designed to specifically target user queries.
For instance, let's say your keyword is "Buffalo chicken wings." Consider writing a blog post or a series of posts that answer the following user queries:
What is the best recipe for Buffalo chicken wings?
How long does it take to bake Buffalo chicken wings?
What are the ingredients in Buffalo chicken wings?
Besides keywords, you should also structure your content in a way that makes it easier for search engines to crawl and analyze your content. This includes using a keyword or target query in the header and sub-headers, bolding important words and phrases and using a list or FAQ format when warranted by the content.
Always aim to answer the target query in one succinct sentence – and then you can go on to provide more detail throughout your post. Remember, featured snippets are meant to resolve user questions as quickly as possible. Also, including similar questions broadens the scope of your webpage, increasing its odds of being featured in multiple search queries.
SEO-Friendly Content Writing Services Can Help Get Your Content Featured
If you're already planning on buying SEO articles to drive organic traffic, why not purchase SEO content writing services from a firm with content featured on SERPs? At Virtucom Group, our SEO content writers have a wealth of experience writing great content with long-tail keywords that get sites noticed by search engines. To learn more about our content writing services, contact us today.