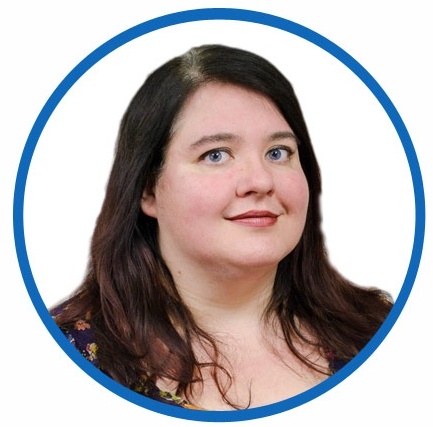 by Abigail Moore
Last week we explained how utilizing data in your business blogs can increase readership and even boost social shares by 73%. That's a compelling argument, and certainly one you should take into account when planning your content.
But numbers alone won't get the job done.
Look at it this way: If data alone was compelling enough to convince prospects to do business with your company, you'd be able to win conversions simply by listing the facts. But there's more to conveying your value than data, and while statistics, hard evidence and other information are essential to the story of your brand, they're only part of it.
So, what could possibly matter as much as the proof of your excellence and the data that supports the importance of your offerings?
It's the story you tell about them with a unique perspective only you can provide that establishes trust and positive relationships with prospects and existing customers.
In an article from Inc.'s Entrepreneur Organization, Winnie Hart, co-founder of strategic marketing and brand strategy firm Twin Engine, wrote, "If a company does not tell its own story, someone else will create one for them."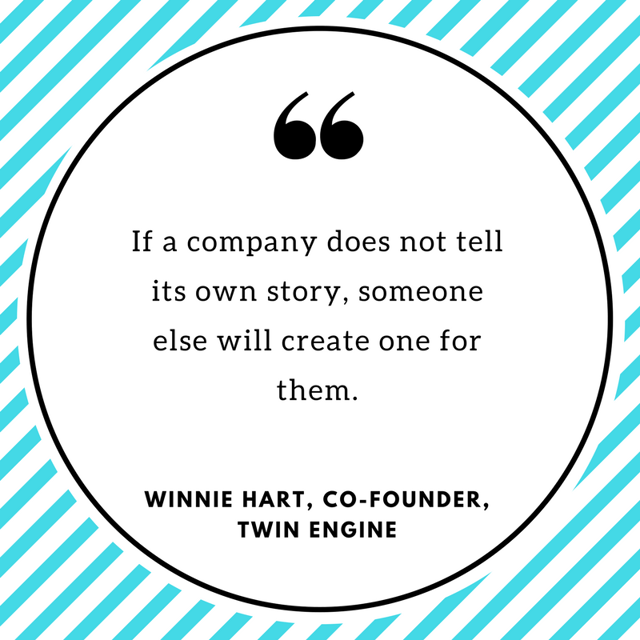 When a business fails to develop a unique brand persona and voice, it becomes much more difficult to stand out in a crowded marketplace and win trust. Fail to earn their trust, and you'll also fail to win their investment in your products and services.
The Data Is In, and It Supports The Value of Your Perspective
Trust is something that brands simply can't buy. You have to find ways to earn it, and one of the best is by cultivating authenticity and speaking to customers in a way that establishes you as reliable partner. Unfortunately, trust is hard to come by, especially for business.
Each year the Edelman Trust Barometer measures trust in a variety of industries, the government, the media and more, and 2018's results should be sobering for brands. It revealed that trust in businesses in general is down by 10 points from 2017.
What else can the Trust Barometer tell us? Check out these statistics:
63% consider a company's social media presence trustworthy, while only 37% found advertising to be trustworthy
56% agreed that companies who only care about themselves and their profits are doomed to fail
This suggests that building a sense of authenticity in content marketing can be the key to establishing trust and asserting the value of your brand. But which kinds of content will have the desired effect?
65% trust a spontaneous speaker
59% trust video
57% trust a detailed argument
51% trust personal experience
Perhaps the biggest surprise: only 49% cited data as a significant trust builder.
That doesn't mean data doesn't matter – far from it. Instead, it reveals that data alone won't be enough to build the trust you seek. Instead, you need a comprehensive content strategy that incorporates multiple elements to convey trust to a wide range of prospects.
3 Ways To Build Trust With Content
Nearly half of B2B buyers consume three to five pieces of content before making a purchase decision, according to DemandGen's 2016 Content Preferences Survey Report. That means you have several opportunities to build trust with your content. Include these three styles of content in your editorial calendar, and you'll ensure more opportunities to demonstrate authenticity and a unique brand perspective that will encourage site visitors to choose you as a trusted business partner.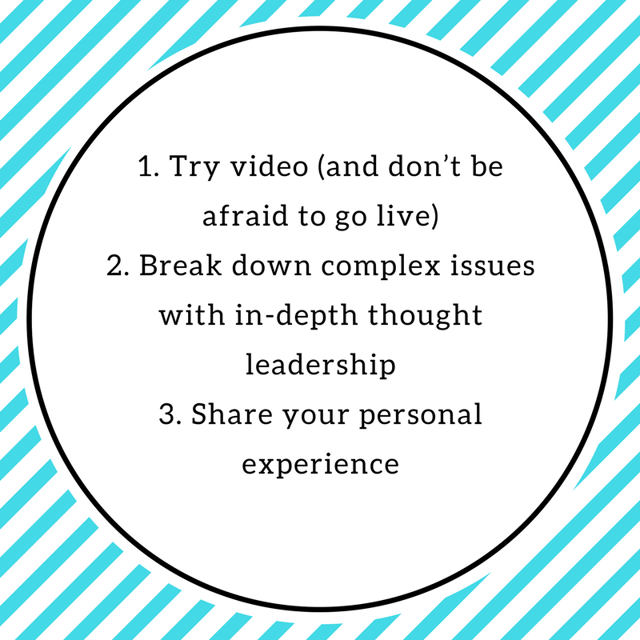 1. Try video (and don't be afraid to go live)
43% of consumers want to see more video content from marketers. That's no surprise, as Cisco notes in their VNI Global Fixed and Mobile Internet Traffic Forecast for 2016 to 2021, 82% of all IP traffic will be video.
Video provides a great opportunity to speak directly to your audience and put a personal face on your brand. Consider creating a regular series of short videos where your CEO speaks on industry concerns, or instructional videos that show employees demonstrating proper use of your products or showcasing how they're created. This allows customers to get a sense of the people behind your business, showing that you're more than just a faceless corporate entity. Not sure what to say? Expert writers can help craft a script that keeps you on-track and reflects the overall voice of your other web content.
And don't discount live video. Cisco's study projects that it will account for 13% of the traffic mentioned above, and it's a great way to interact with viewers and show you're comfortable and confident enough as a business to speak from the heart.
2. Break down complex issues with in-depth thought leadership
While video is powerful, you can't rely on it alone to build trust with your audience. According to HubSpot, the average video retains only 37% of viewers to the end. If viewers tune out, how else can you show your brand persona and earn trust?
The answer lies in thought leadership. DemandGen reports that 96% of readers crave more content from industry thought leaders, and by crafting in-depth blog posts and ebooks from your unique perspective, your brand can take advantage of this desire.
Were you surprised that only 49% of Trust Barometer respondents put trust in statistics? If so, it's important to remember that facts without context can be difficult for the reader to put to good use. That's where you come in. As an industry thought leader, you provide the context, analysis and insights that help your audience understand key data and apply it to their own problems, establishing you as a trusted guide throughout the purchase path.
Take these posts as an opportunity to engage in the in-depth arguments that build trust. Don't be afraid to take a strong position, or even show passion about an issue in your industry. Doing so gives your business a chance to show not just competency, but passion and conviction. And doing so will create a greater sense of authenticity around your brand than simply stating the facts.
3. Share your personal experience
You might think that personal stories have no place in business content. If so, you're thinking about the concept of personal in the wrong way. It's true, the readership of a B2B blog might not want to hear about an important epiphany you had watching a little league game. They probably don't want your recipe for green bean casserole.
But they still want to forge a connection with you before making a purchase, and there are a number of ways to personalize your brand without getting corny or clichéd.
It's likely that your business has some great stories to tell. How did your company form? What made you choose the industry you serve, and how did you determine which products and services should be offered? Start with the basics of who you are and try to see them from a fresh perspective. It's easy to take your own story for granted, but it's an important part of how customers understand you in comparison to the competition.
An easy place to start is an "About Us" page, but there's significantly more you can do to win trust with personal experience. Try a series of sponsor content articles that introduce readers to your corporate values and explain why these core beliefs let you provide a better customer experience. Blog about how your founders met and were inspired to create an award-winning, game-changing product. Let customers see you as more than a business, and you'll establish the foundation of trust necessary for a lasting relationship.
Are you letting someone else tell your story? If so, there's never been a better time to get serious about content marketing as a strategy to take control of your brand's narrative and earn the trust that ensures customers see you as a valued partner today and in the future. Not sure how to start? Schedule a consultation with one of our content strategists. We'll get to know your business and begin crafting a strategy that will win trust for your brand.