by Han-Kuo Yang
Business blogging works. That's fairly common knowledge nowadays. In fact, the power of blogging is so universally believed in that 86% of B2B and 77% of B2C companies are blogging, and customers are paying attention: up to 61% of shoppers have made a purchase based on the advice they gained from a blog.
So, having a blog is great, but how do you drive traffic to it? An effective copywriting agency or content development services firm creates compounding blog posts that attract visitors steadily over time, not just right after it's posted. Evergreen content that stays relevant for months, or even years, after it's written will provide you with a stream of visitors, even if your blogging schedule slows down.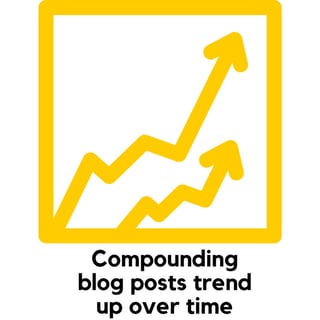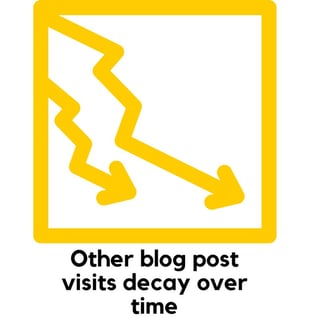 How do successful content writers create posts that stand the test of time? Here are a few common denominators that many compounding posts share:
Topics with broad appeal
Compelling titles
Easy-to-read format
Write Great Content About Topics That Reach All Of Your Readers
What are your readers' most common pain points? Blog posts that address these concerns are more likely to stay relevant over time. Great content writers offer your readers advice on issues that are likely to remain problems, even as time passes, and provide them with solutions to their commonly occurring obstacles.
One simple way to think of topics that are likely to compound is to write about common questions that your customers frequently ask. If one of your customers is asking about something, chances are high that many potential clients are wondering about the same thing. Act as a resource for them, establish yourself as an authority and turn a potential client into a paying customer by supplying them with high-value content that's relevant to their situation.
Keep in mind, however, that niche and topical posts aren't always a bad thing. In fact, a certain amount of your posts should offer specific information and advice that only a smaller percentage of your readers will care about, because this can help establish you as a source of detailed, specialized knowledge. Just be aware that you're speaking to a narrower audience, so the analytics on these types of posts may be less impressive than the analytics for your broader posts. Sit down with your content development team to develop an efficient blogging calendar that includes posts that are designed for short-term traffic boosts and those that you can turn into compounding posts.
Create Business Blogs With Titles That Attract Attention
Readers are searching the Internet to find solutions to particular problems, so you need to make them aware that your content holds the answers that they're looking for. Titles that exude a sense of certainty commonly use words like "How To", "What", "Best" and "You Should", making the post seem authoritative.
Why You Should Choose Product A
How To Do XYZ: 3 Tips For Success
What You Should Know About Topic ABC Before Making A Choice
5 Of The Best Resources For Topic ABC
Titles like these let the reader know you have relevant information to share that can solve the problem they're facing. They also include common search term queries. Think about the way you phrase questions when using a search engine. Chances are you enter things like "best way to do XYZ", or "how do I ABC?" By creating titles that use the same search terms and phrases, you're increasing the chances that your posts will generate organic visits and compound over time.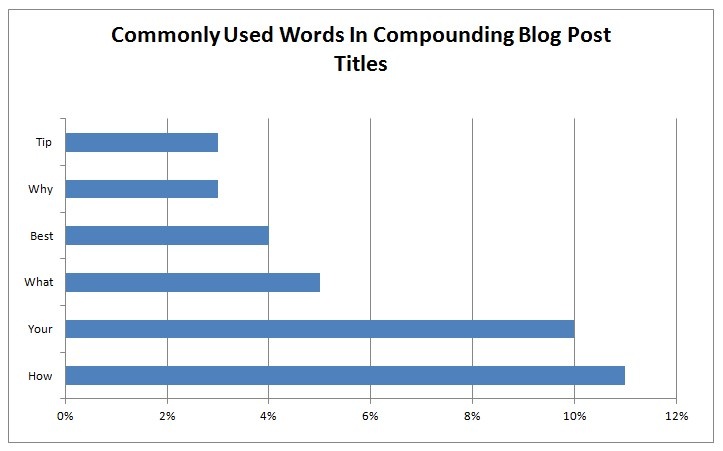 Source: https://research.hubspot.com/reports/compounding-blog-posts-what-they-are-and-why-they-matter
What Should You Include In A Compounding Business Blog Post
Now that you have a topic and title, your goal is to include the information your readers want in an easy-to-digest format that draws people in.
A few components that many compounding posts have in common are:
Images: Pictures add a splash of color and provide visual interest while also breaking up long sections of text. They can also help people that learn visually understand information more easily.
Easy-to-read structure: Bold headlines provide a brief summary of longer sections, and bullet points let readers quickly scan key points.
Links: Make it easy for readers to find more information on the topic. If you have relevant information on your blog, link back to it to help increase visit durations, or link to outside sources to show readers where to find more background data from a reputable, high-authority source.
Just the right length: Blog post length varies by the topic, but think about it like Goldilocks: Not too long, but also not too short. Blog posts that are over 2,000 words tend to be less successful, because readers generally start to lose interest. But blog posts under 200 words probably won't have the depth of information that your readers want. Aim for that "just right" sweet spot, where you offer enough details to be useful and comprehensive, but not so many details that your core message becomes obscured.
Business blogs are a great way to drive traffic to your site and increase your brand recognition, but not all blog posts are the same. Using topical posts can provide a short-term spike in site visits, but great content writers and content development services firms know that creating compounding blog posts that provide a stream of visitors, even after the calendar has turned to a new year, provide you with a more efficient way to grow your traffic organically.
Thinking about starting a business blog, but you're not sure you have the staff or time to commit to it? Virtucom Group's content development services can provide you with a scalable solution that lets you publish compounding posts and topical posts on a schedule that makes sense for you.