by Virtucom Group Team
"Blogging is a conversation, not a code."- Mike Butcher, Editor-at-large of TechCrunch
Content writers who have sat, staring at a blank screen, for a prolonged period may be intrigued by the idea of an algorithm that generates popular blog topics for them. Just type in a few key phrases – and presto – out come ready-to-write blog topics.
Blog topic generators do exist – many of them – but they're imperfect, and ultimately, not very useful as you begin to think about content development for your business blog.
Take a look at Portent's Content Idea Generator. When we type in the keyword "window dressing," the generator spits out this blogging topic: How Window Dressing Could Get You Blacklisted.
If you're the owner of a company who sells different types of window dressings, this blog topic suggestion isn't very helpful – nor does it make much sense.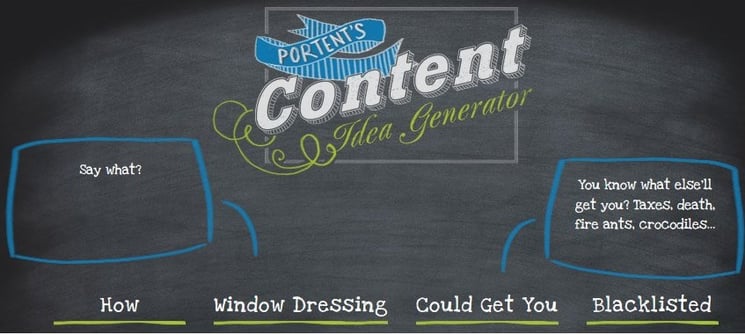 Here's the good news: you don't need a blog topic generator or some magic algorithm to brainstorm compelling, relevant topics to blog about. All you need is your marketing team, your blogging calendar and some time carved out for a discussion about the direction and purpose of your blog.
Keep reading for 4 tips you should consider when coming up with blog post topics for 2018.
1. Keep Your Target Audience In Mind Throughout The Entire Content Development Process
Always begin with your buyer personas. What are they interested in learning about? What are their pain points? As you begin to answer these questions, use actual customers as a source of information. Bring your sales team into the discussion, since they have the most access to your customer base. Find out what questions your sales representatives are constantly fielding on calls or via e-mail, and then build blog topics around these questions.
Example: You operate a healthcare blog for a family doctor's office in the Northeast. Your primary customer persona is a married mother with 3 children – 1 teenager and 2 children under the age of 11. The mother works a full-time job, and her children are involved in multiple extra-curricular activities.
Based on this persona, some topics you may come up with include:
How to prevent your kids from getting the flu this winter
5 ways to help stop colds from spreading from kid to kid
Is your child too sick to go to school?
Typical teenage development vs. signs of ADHD
2. Don't Hesitate To Audit Your Competitors' Business Blogs
Of course you should never plagiarize your competition – that goes without saying – but you should stay informed about what your competitors are writing about. If they're covering topics that you haven't written about at all, well – you're missing out on educating a group of people who are interested in learning more about that topic.
Example: You manage a college blog for a public university that's trying to promote its higher-education programs. You spend some time reading other university blogs and notice that many of them are highlighting a specific graduate degree they offer by linking it to the job search process and real-life careers. Using this as a springboard to promote your college's new Digital Marketing graduate program, you come up with the following topics:
10 jobs you can get with a digital marketing degree
Who's a suitable candidate for the digital marketing program? A checklist
5 skills a great digital marketer has
Digital marketing: the future of marketing
3. Use A Keyword Suggestion Tool To Beat Writer's Block
Chances are, the analytics program you use to evaluate the performance of your blog posts also has a keywords tool. By typing a phrase into a keyword suggestion tool, you're given instant access to several highly searched queries revolving around that inputted phrase.
Example: You run your own family law firm, which specializes in domestic violence, divorce and child custody cases. You decide you want to spend the next month blogging more in-depth on domestic violence representation, and so you type the phrase "domestic abuse" into HubSpot's keyword suggestion tool and get the following results: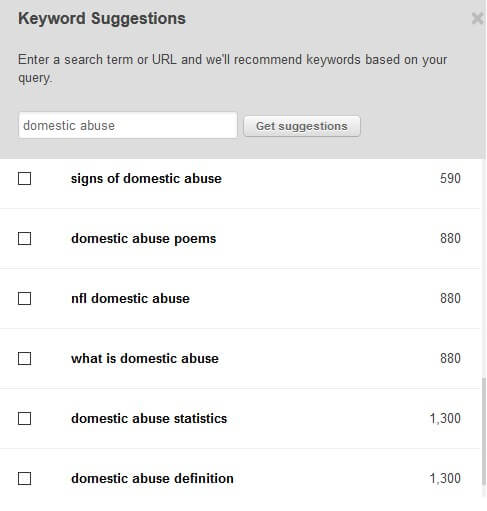 You can then use these keyword suggestions as topics for different blog posts about domestic violence, since you know hundreds, or even thousands, of people are searching these topics every month:
5 signs of domestic abuse
What is the legal definition of domestic violence?
The differences between physical domestic abuse and emotional domestic abuse
How domestic abuse in the NFL is indicative of a widespread problem in America
4. Make Topic Clusters An Integral Part Of Your Blog Strategy
Topic clusters are exactly what they sound like – blog posts that are grouped, or clustered together, underneath a single topic. When trying to select a topic for a topic cluster, you'll want to choose a subject that's broad enough to encompass at least 10 sub-topics underneath it.
You'll also want to choose a subject that appeals to your buyer personas and addresses one of their primary pain points or interests. When brainstorming blog topic clusters, be sure to publish them in a manner that tells a story or brings the reader along on a linear journey, starting with more introductory, general material and ending with a more complex, niche focus. The journey can also follow a timeline of activity, as revealed in the example below.
Example: You write the automotive blog for a new and used car dealership. You've decided to start a topic cluster around "the process of buying a new car" because this is a topic many individuals who visit your dealership have questions about. As you consider each step in this process, you map out the following cluster:
The Process of Buying a New Car: Blog Topic Cluster
Blog #1: Is buying a new car a good fit for you? Or is buying used a better option?
Blog #2: How to set a budget for buying a new car
Blog #3: New car research: 4 great tools to help you find the perfect car
Blog #4: A comprehensive guide to car-buying terminology
Blog #5: Everything you need to know about test drive day
Blog #6: Understanding how your credit score affects your car financing options
Blog #7: Can you negotiate the price of a new car?
Blog #8: Extended car warranties: are they worth it?
Blog #9: Picking up your new car: a step-by-step guide
Blog #10: 7 ways to keep your new car in mint condition after you bring it home
HubSpot research shows that companies who publish 16 or more blogs a month receive almost 3.5x more traffic than companies who only publish 0-4 blogs a month.
To publish 16 or more blogs a month, you need a solid blog strategy to guide your efforts as you plan which topics to blog about. If you have the time and talent, the 4 tips outlined in this blog can certainly help you find business blogging success – but if you're short on time and staffing, it may be appropriate to consider outsourcing content creation to a firm that's well-versed in content planning and execution. For more information on whether content outsourcing is right for you, download our free ebook.