by Virtucom Group Team
Since the dawn of the earliest search engines, pay-per-click (PPC) advertising has played a fundamental role in marketing campaigns around the world. After all, the system is simple, the potential audience is incredibly large and you only pay when your ads are clicked – so what's not to love?
The primary issue with PPC advertising is that, like any other marketing tactic, it requires extremely strategic execution in order to ensure success. Listing off your best-selling products and their prices isn't going to send your sales through the roof, no matter how many thousands of searches are conducted for those products on a monthly basis.
That's why, in spite of the relatively small character count you'll face with most PPC advertising routes, it's important to spend time creating ads that will actually convert. And if you're not sure how to pull that off, we're here to help.
But Wait – What Is PPC Advertising?
Let's start with a quick description of pay-per-click advertising. True to its name, the system requires marketers to create ads that are then shown on relevant websites. For every click the ads receive, the marketer pays a fee for the exposure.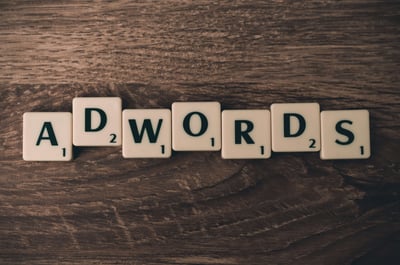 Oftentimes, any mention of "PPC" will soon lead to discussion of Google's internationally popular AdWords platform. AdWords allows businesses to create ads that are displayed on Google's various web properties when certain keywords are searched. Though they can be placed everywhere from Gmail to YouTube and beyond, we'll primarily discuss the wildly popular search ads placed on the Google SERP. As mentioned, these ads appear whenever a certain targeted keyword is searched, and they're displayed prominently at the top of the SERP with a little box labeled "ad" placed before the URL.
But it's important to remember that Google's not your only option – there are several other popular PPC platforms, including Facebook and Bing Ads. You may choose to target one PPC platform or several – it all comes down to your business's unique needs.
Essential Tips for Creating Effective PPC Ads
The AdWords PPC advertising system sounds simple, right? At its core, it is. But if you're trying to drive serious results from PPC ads, you need to research thoroughly and create compelling copy that will turn general browsers into longtime customers. Here's how to perfect the PPC ad.
1. Start with long, hard keyword research.
In order to place your PPC ads in front of an audience that's actually interested in your product, deep keyword research is essential. The more precisely targeted your keywords are, the more apt those who see your ads are to navigate to your site.
Long-tail keywords are especially handy in comparison to more broad terms. This is easiest to illustrate with an example.
Imagine you're selling leather wallets. It seems rational to target the keyword "wallet," right? Now, imagine a potential customer enters the search term "fabric wallet," implying that they're specifically avoiding leather wallets. Because your ads are targeted for the "wallet" keyword, there's a chance that your ad will appear. Is that searcher apt to navigate to your website? Probably not. If you target more specific keywords, on the other hand, such as "leather wallet," "real leather wallets," or even "what are the best leather wallets," there's a significantly better chance that your ad will resonate with the web users who see them.
2. Take time to perfect your headline.
Your headline will almost certainly be the first part of your ad that's seen, so it stands to reason that you'll put a little extra effort into making it pop. Start by ensuring your headline is extremely concise, mentioning only what needs to be mentioned to entice potential customers.
If you're selling something, including numbers is also a good idea – consider adding the price of a best-selling item, or mention a certain percent-off sale that's currently happening.
Finally, use punctuation in your headline. Though this little detail is often ignored, a period will lend a well-crafted headline a more complete, commanding feel, while an exclamation point will provide it with a bit of extra energy.
3. Create copy that focuses on – and thoroughly illustrates the benefits of – your product.
This involves providing a unique value proposition (UVP), which is a defining benefit that separates whatever you're offering from the competition. While it might seem like a no-brainer, it can be challenging to illustrate a UVP with AdWords' limited character count. But it's a must nonetheless – especially if you're operating in a highly competitive market.

Consider the above PPC advertisements triggered by searching "stand-up desk." Beyond identifying the product and the website providing it, copy like "The Most Awarded Desk Ever" and "The Desk That Has It All" effortlessly stimulates more interest, inviting viewers to visit the website to see what all the buzz is about.
4. Write for your customer.
This is closely related to the necessity of a UVP. Your PPC ad copy should focus entirely on how your company and its product or service can benefit the customer. Simply describing what you offer could imply that your business isn't in tune with what customers are actually seeking, whereas clearly illustrating how your product could help solve a customer's problem suggests that your company genuinely cares.
5. Use a compelling call-to-action (CTA).
An element that's common across the world of marketing, CTAs invite the viewer to learn more about – or to actually purchase – a product or service. The best CTAs simultaneously provide value – often by referencing a UVP – and create a sense of urgency that gives the potential customer a feeling that they could miss out on something important if they don't respond.
Make sure to keep these characteristics in mind when you create your PPC ad. For example, rather than simply recommending people view your products – "Browse our selection of (product type)." – push the potential customer into action with something like, "Explore the Web's best selection of (product type) today!"
6. Use every available feature of the ad system you're using.
Most PPC ad systems offer several features beyond the ad's basic copy, and it's important to take advantage of these elements in order to ensure your ads are competitive with what's likely an extensive selection of ads fighting for the same spot.
Google AdWords, for example, offers all of the following and much more:
URL: Your AdWords advertisements can display customized URLs, and they don't have to match the actual page they're linked to. Ideally, your URL will contain relevant keywords, or even another UVP – think "/Half_Off_Sale" – that could drive clicks.
Extensions: These add-ons allow you to display extra information, including the location of your business, links to certain parts of your website and even phone numbers. Extensions not only help your ads stand out, but offer various ways to drive potential customers toward action.
Negative keywords: Fittingly, negative keywords allow you to target words and phrases that won't trigger your ads. These would come in handy with the wallet example referenced earlier – including "fabric wallets" as a negative phrase keyword would ensure that your leather wallet website wouldn't appear on SERPs for those products, despite it containing "wallets" – a keyword you chose to target.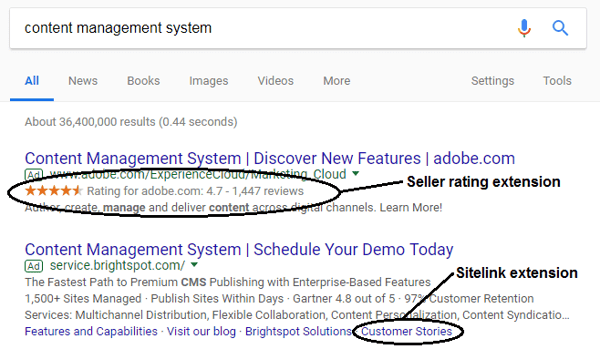 7. Create relevant, high-quality, carefully optimized website content.
When it comes to PPC ads, the advertisement itself is only part of the equation. Once clicked, your ad has to lead to a landing page that caters precisely to the web users who would've clicked on your ad in the first place.
Consider, for example, the earlier PPC ad for the Jarvis Standing Desk that references "The Desk That Has It All." Currently, clicking on the link leads to a fairly general page where visitors can then choose a specific category or view the business's best-selling products. Is this effective? It could be worse, but it requires more work on the part of the visitor if they're aiming to see what desk is all about. For an ad that flaunts "The Desk That Has It All" as its main selling point, why not lead directly to a landing page with an in-depth description of that very desk and the features that earn such a lofty description?
Other considerations for your landing page include ensuring the content contains keywords and phrases relevant to the keywords that trigger your advertisement, as well as location-targeted content for businesses that operate on a local level.
8. Test regularly.
Not seeing the results you were hoping for? You're not alone – that just means you have to keep on testing new tricks until you find a formula that works. Just make sure you only tweak one detail at a time to ensure you can identify what's causing any changes that may appear.
Plus, the PPC ad landscape is always changing, so don't forget to keep up with any updates that may affect your ad system of choice. Once these updates are put into effect, implement the appropriate changes as soon as possible to stay ahead of the pack.
Get the Content You Need
As with most marketing solutions, there's no master plan for harnessing the power of PPC, but these essential tips can help prevent you from investing valuable time in a PPC campaign that will never deliver.
No time to create digital content that complements your PPC ads? Reach out to the expert writers at Virtucom Group, and we'll work hand in hand with your business to create thoroughly optimized landing pages to help drive PPC success.