by Virtucom Group Team
When it comes to content marketing, much of your company's focus is probably directed toward crafting compelling new content. And while there's no doubt that fresh content is essential in today's digital marketing landscape, your older, existing content shouldn't be ignored – especially if it's still racking up page views and driving conversions. Regularly updating your highest-performing content can not only help your business maintain a key source of traffic, but also help ensure that site visitors are receiving in-depth, up-to-date content that positions your website as an industry authority.
Below, we'll outline a simple six-step process for giving your most reliable posts a well-deserved makeover.
Getting Started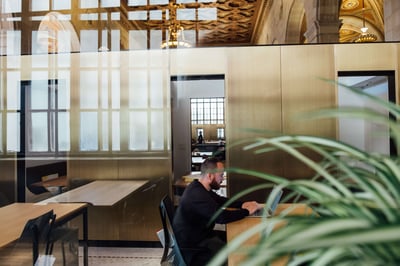 In order to update your best existing content, you first have to identify the content that's worth updating. Start by examining all of your existing content to determine which posts are still generating major traffic. Then, dig a little deeper to ensure that these posts are still in line with your company's major goals and relevant to the needs of your audience. Create a list of the content that makes the cut. Those are the posts you'll be updating.
6-Step Content Update Plan
Now that you know which content is worth keeping around, it's time to give it an update. The following steps cover nearly every element of the content, from its title tags to any data referenced within the body, so be sure to pay close attention to each step to ensure a thorough update.
1. Begin with a general review.
Before doing anything else, treat the content as if you were proofreading it for the first time, and give it a quick run-through. Identify any issues that stand out, such as poor grammar and spelling mistakes. Keep readability in mind, too. Are there massive blocks of text? These may be better off broken up into smaller paragraphs, or even bullets.
Here's where you'll also want to ensure the language and quality of the writing measures up to your company's current standards. Times change, and if your business has grown significantly since the piece was published, content guidelines may have become more stringent for the sake of the company's reputation.
2. Add more content.
The piece may still be driving traffic, but that doesn't mean it can't be improved. That's why it's important to take any opportunity available to flesh out the content that's already there with additional content that's relevant to the original subject.
Additional content takes many forms. One popular suggestion is to conduct a quick Google search for a keyword that would lead to the article you're editing, and then exploring the "People Also Ask" section on the SERP. If the questions that appear are relevant – and not already covered in your content – why not add sections to your blog post to answer them? After all, Google is known for rewarding long-form content that's packed with relevant information.
Think your piece already tackles the subject in full? Consider adding an infographic, results from a self-conducted survey or other data that could help reinforce the point.
3. Update your sources.
If the piece you're updating wasn't inspired entirely by your own business's experiences and research, then there's a good chance you cited a credible source or two throughout the content to help lend your observations some influential power. But even the most compelling data can become irrelevant in time – especially in the ever-changing information age. That's why updating sources is a necessary step of any content makeover.
Fortunately, the process is fairly simple. Just work your way through any data you included in the piece, and check the source to see when the data was published. If it's even a few years old, consider whether or not the data's age mars its relevance. If the data still supports the main points of the piece, feel free to keep it. Otherwise, seek out more up-to-date resources. After all, if a topic was researched once, it's not unlikely that it was researched again since then.
4. Update the post's keywords.
Yes, this will involve performing more keyword research, even though you likely did so at length when the piece was initially published. But search habits have also changed over the years, so it's important to ensure the piece is tailored for the words and phrases – especially long-tail keywords – that weren't as prominent when the piece was first created.
That said, don't shift the focus of the content too far from its initial keywords, as that could risk reducing the appeal that helped the piece perform in the first place.
5. Implement modern SEO best practices.
Google, along with other search engines, updates its algorithms on a regular basis in order to provide web users with the precisely tailored results they need. This means that content published even a year ago may not be fully up to date when it comes to SEO. There's no need to worry over that content vanishing from the SERP, but frequent SEO updates are highly recommended – especially when it comes to your highest-performing content.
Important SEO factors to consider when you're refreshing older content include:
Internal and external links
Image alt text
Title tags
Meta description
URL
6. Rework your headline.
The headline of an article is arguably the most important factor when it comes to driving traffic. That's because it's the very first thing potential readers see – and it's the reason why, ideally, they select your content over similar content from a competing website.
A headline that plainly states what the reader can expect may get the job in certain circumstances, but the best headlines balance concise, optimized language with a writing style that will entice searchers into choosing your content over that of your competitors.
When you're updating your older blog posts, make sure to check the headlines to see if you can tick off all of the following bullets:
It precisely and accurately describes the content of the article.
It clearly expresses how that content is valuable.
It uses enticing, energetic language without reading like clickbait.
It contains a primary keyword or phrase, ideally toward the beginning.
It's under 70 characters, so it displays in full on the SERP.
Get Your Content Out There
Once you've wrapped up these six steps, your refreshed content should be ready for reintroduction to the masses. But your job's not finished yet. Now that the blog posts are back and better than ever, make sure they're incorporated into your blog promotion strategy. Even if they're picking up traffic of their own volition, spreading the word on social media could take your articles' visibility to the next level.
Here's a handy checklist that you can print out and keep as a reminder of what to do when it's time to update your content in the future.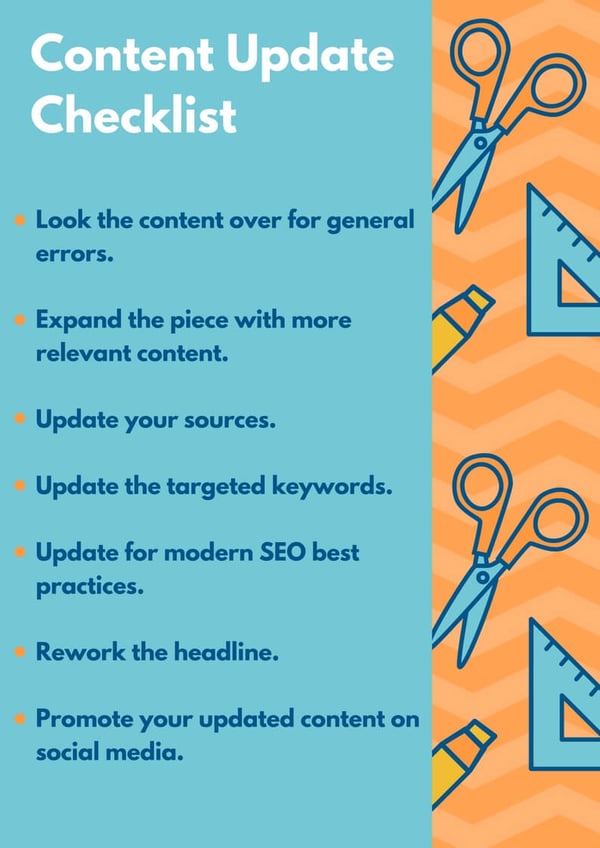 When You Just Don't Have the Time to Blog, Call on the Expert Writers at Virtucom Group
Creating and maintaining an extensive bank of high-quality content can be tough. If your company is struggling to juggle its blogging needs with the daily demands of a growing business, reach out to Virtucom Group today. Our content strategists will work with you to develop a custom content strategy that's carefully tailored to help you reach your business goals.