by Virtucom Group Team
It can be a scary thought for retailers: nobody is too big to fail in e-commerce.
For instance, Walmart recently reported slowing online sales growth and a decrease in profits during the holiday period. What's worse: Walmart has been investing more heavily in its e-commerce capabilities of late, also purchasing companies, like Jet, Moosejaw and ModCloth, in order to gain traction against the almighty Amazon. But these efforts didn't prevent the company from losing $15 billion as a result of slow online sales growth.
If it's difficult for a powerful company, like Walmart, to keep apace in the current e-commerce climate, just think about the efforts needed from small- and medium-size companies to remain competitive. Clearly, it's essential that your business devises an e-commerce strategy that actually attracts customers and increases conversions.
We recently outlined several reasons why product attributes are an important part of your retail company's product data management strategy that influence consumers' purchase decisions. The purchase decision comes at the end of the customer purchase path, or buyer's journey, which is a three-stage process that includes:
Awareness, in which the customer tries to identify their problem or need
Consideration, in which the customer searches for ways to overcome their problem or meet their need
Decision, in which the customer chooses the product that provides the best solution to their problem
In order to truly understand what the buyer's journey means for online retailers, it's important to dig deep into the idea and understand that different types of products naturally lead to nuances among customers' purchase paths. These differences arise because consumers lean on product information more heavily when purchasing certain products in certain categories, creating separate purchase paths for non-considered purchases and considered purchases.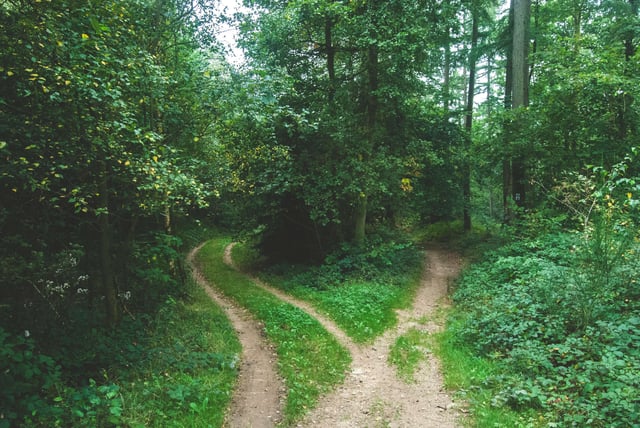 What Separates Non-Considered Purchase Decisions and Considered Purchase Decisions?
In his article from Smashing Magazine, Vitaly Friedman identifies two kinds of purchases based on different product types: non-considered and considered.
Non-considered purchases are typically low-effort selections of simple items, like batteries or pencils.
Considered purchases, which usually take more time and effort and involve more complex items, like a bicycle or refrigerator, are higher-priced or require longevity, speed or quality.
Certainly, a browser's path to a considered purchase is going to rely more heavily on information found in product content, and will require a high level of trust in your retail site.
In other words, with non-considered purchases, customers are more likely to move quickly through the buyer's journey because their problem or need is readily identified, the product they're looking for is usually easily found and their decision to purchase consequently takes less time and effort.
Considered purchases, on the other hand, often involve lengthy research in each step of the purchase path as customers determine what they're looking for in a product, weigh the pros and cons of several different items and move toward a purchase decision that often greatly affects them over a long period of time, both financially and in regard to their general quality of life.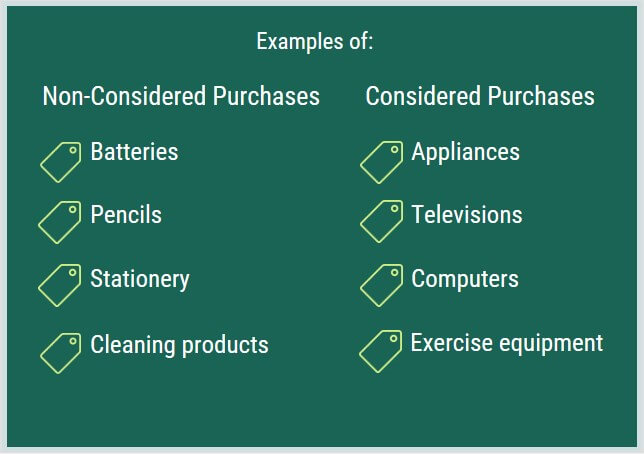 Which Product Content Elements Are Most Valuable to Shoppers Making Each Type of Decision?
With such differences between these decisions, it naturally follows that customers would rely on different aspects of product content for each type.
For non-considered purchases, a simple confirmation of what the product is will often satisfy the consumer. In this case, the product name will play a large role in quickly referencing basic information. Beyond the product name, consumers will likely require a short list of product attributes detailing gender (for apparel or footwear items), quantity, color, size, etc. in order to reach a quick purchase decision.
For considered purchases, thorough, specific product attributes are most important to consumers. Product attributes feed into left-hand navigation, which is an important tool that helps customers filter down to relevant items in the consideration stage. Robust and complete product attribute listings also make it easier for consumers to compare key elements of similar items, and with complex products, like appliances, televisions and digital cameras, comparison tables that list attributes for several items side-by-side can be essential for helping customers reach a purchase decision.
Excellent Product Data Management Contributes to Both Non-Considered and Considered Purchase Decisions
It's important to make sure you're offering all customers thorough, complete and robust product information, regardless of the type of purchase path they're on. For considered purchases, it's essential that your customers can effortlessly compare attributes and features for several items, so they can come to a decision about which product to buy. If customers can't confidently narrow down their search to the item that meets their needs, they might not feel comfortable making any decision at all, leading to an empty shopping cart and no purchase made.
But don't neglect product attributes for items that lead to non-considered purchases. Customers may find your retail site by way of a simpler item, and then continue searching to find more complex items later on. It's important to make sure your retail site is consistent overall in the product content it offers to consumers to help establish the trust necessary for an informed purchase decision from your site, rather than a competitor site.
Can't ignore the nagging feeling that you need to harness the power of better product data management to stay afloat in the competitive world of e-commerce? We're here to offer some good news: you don't have to be an expert on product attributes, product content, left-hand navigation and the like in order to give your customers a great shopping experience that leads to increased conversions. Virtucom Group provides you with the e-commerce expertise needed to stay competitive and successful in today's difficult marketplace. Contact us today to learn more.