by Virtucom Group Team
According to the ABA Journal, a third of all people looking for an attorney start their search by consulting online resources (imarc). That makes it easy to understand why lawyers and other legal professionals everywhere have started publishing blog posts, adding more landing pages and enhancing their websites with content. If you haven't added blog content to your overall marketing strategy yet, it might be time to do so.
Whether you're looking to increase the amount of articles you publish or you want to start posting legal blog content for the first time, one of the most effective ways to grab your audience's attention is through prep content. In today's post, we'll go over the two main types of prep content and give you some ideas for what prep content might look like on your website.
What is Legal Prep Content?
What do we mean by prep content? Well, there are essentially two main types of prep content that legal professionals typically find most effective. The first type of prep content is anything that helps prepare someone for their first legal consultation with you. The second type of prep content is anything that equips people with the knowledge and tools needed to best protect themselves before, during and after an incident occurs.
Below, we'll dive into both types and explore the various ways in which each can benefit you and your clients. But first, here are some examples of common prep content to help give you a sense of what it could look like: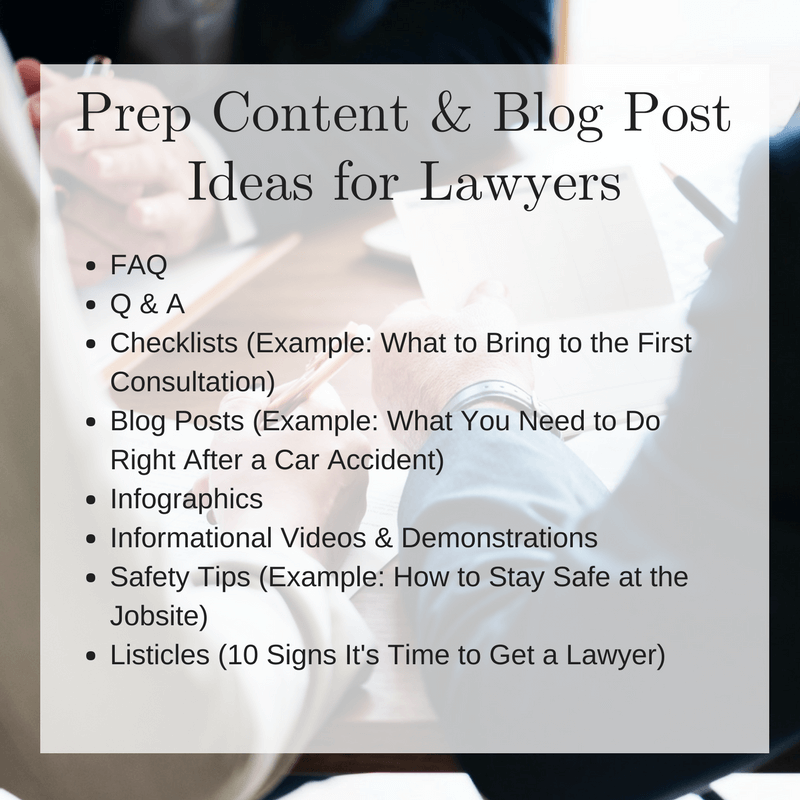 Preparing for the Initial Consultation
For new clients, your website serves as the first introduction to your law firm and what it has to offer. They're going to make the decision whether or not to meet with you based solely on the content you have available. Because of that, you want to make sure your website comes across as helpful and as welcoming as possible in order to earn their trust, and, ultimately, their business.
That's where prep content comes in. Through blog posts and checklists, you can answer some of their questions, showcase your knowledge and expertise and give them a glimpse into what it's like to work with your law firm. If you value and provide personalized, one-on-one service, show them that. If you take pride in the friendly, locally-owned experience that you offer, show them that, too.
When you don't offer any supplementary or prep content, the only thing you are showing them is that your firm might not be the right fit.
Another great thing about blogging for lawyers is that it can help new clients figure out what they need to bring to the first meeting. If a timeline of events, photos, documentation, medical records and correspondence will help you do your part more efficiently, you can point them toward the handy checklist you created that's designed to make the process as smooth as possible. You and your clients will appreciate saving precious time as you help them navigate what may be a disruptive or challenging time in their lives.
Preparing for the Unexpected
Prep content is also a great way to target people who don't necessarily need your services right now, but could some day. Here are a few scenarios in which your tips and advice can make a difference.
Someone stumbles across your article about how to avoid distracted driving or what to do in the event of a car accident. A few days later, they get into a serious fender bender. With your advice fresh in their mind, they'll be able to act accordingly and take down all the necessary information. This ultimately works in your favor, because when this person calls on you for legal help later, you'll be more likely to move the case forward and achieve a positive outcome.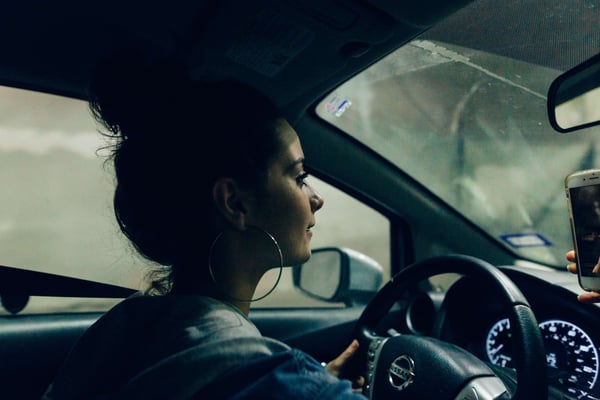 A person turns to Google in search of an attorney to help them sell their home. Because the Google algorithm favors rich, long-form content, the more articles you post to your website, the higher it can rank on the SERP (search engine results page). This increases the chances of your services getting in front of the right eyes.
After her recent divorce, a woman shares your blog post about contested divorce in the state of New Jersey to her Facebook page in hopes of helping out some of her friends. Even if the article doesn't apply to any of them now, they might remember the recommendation should they need your services at a later date.
Someone received a serious traffic violation and isn't sure if they need to hire an attorney or not. They turn to your website for help. There, they find a blog post about how to tell if they would benefit from a lawyer or not in this situation. Again, the prep content here doesn't just help them; it also helps get you more viable cases and weed out the ones that aren't the right fit.
Start Posting Legal Prep Content Today
According to the Law Practice Advisor, "70% of law firms have generated new cases through their website" (imarc). If you're not making your website a priority, you could be losing future clients to competitors who do take content seriously. It's time to start publishing prep content, such as blog posts, checklists, safety tips and listicles, on a regular basis to help strengthen your law firm's digital marketing strategy and lock in your brand identity.
Need help creating content? It's simple to buy blog articles and content writing services from Virtucom Group with one of our monthly packages. Our expert writers have experience producing tailored legal content for firms all across the country. To learn more, contact us today.