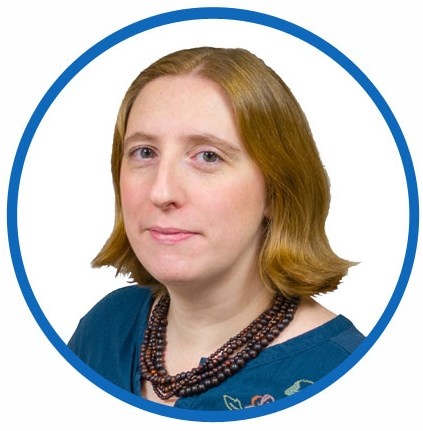 by Sheryl Davis
In our "Meet the Team" series, we feature a Q & A session with a Virtucom Group employee to give you a little more insight into who we are as individuals and as a team. Today's employee is copywriter Kelly Landers.
Tell us a little about your background.
I grew up in the quiet suburbs surrounding Syracuse, residing in Liverpool, NY my entire life. After graduating from C-NS High School, I attended Onondaga Community College and received an associate's degree in general studies. Subsequently, I transferred to SUNY at Fredonia and graduated with a bachelor's degree in English with a minor in creative writing.
How long have you been at Virtucom Group, and how long in your current position?
I've been with Virtucom Group for a little more than a year, serving as copywriter since day one.
What are a few interesting things people might not know about you?
Growing up, I dreamed of becoming a songwriter. I started playing trumpet in the 3rd grade and eventually switched to baritone in high school. However, my first true love was guitar. I started taking private lessons when I was 12, and continued until the age of 16 when I switched to piano lessons. Although I never pursued a songwriting career, I still carve out time every now and then to practice each instrument.
Besides my natural aptitude for musical endeavors, I enjoy cooking and baking. Since being diagnosed with various adult-onset food allergies, I find myself cooking a lot more than I ever used to, as the majority of processed foods contain common allergens. I've learned to bake without butter or vegetable oil, make dairy-free macaroni and cheese and serve up a Thanksgiving feast without using any animal by-products.
What's your favorite thing about our area?
While winter weather may never find its way onto my list of favorite things, I enjoy Syracuse's central location. From apple picking in the crisp autumn air to day-tripping to the many hiking trails and natural waterfalls found across the state to wine and craft beer tasting in the Finger Lakes region, you're never far from exciting adventures. Not to mention, Syracuse comprises its own fun activities, whether that means spending the day shopping and eating your way through Destiny USA, watching a nail-biting SU basketball game at the Dome or indulging in the sugar-coated sweets and savory treats at the NYS Fair.
Tell us about something important you've learned while working at Virtucom Group.
Nothing is perfect – I learned this essential nugget of information on my first day. Throughout schooling, I typically wrote papers and turned them in without giving the words on the page a second thought. However, when I started working at Virtucom Group, I quickly realized that there are many stages to polishing a piece. And even after editing, revisions and proofreading, there's always something I want to change, whether to make a sentence read more fluidly or to switch out verbs with more concrete ones.
What's your favorite season and why?
When the first frost arrives, it's time to dig up my beloved sweaters from storage in preparation for my favorite season – autumn! Not only does it contain my favorite holiday, Halloween, but fall encompasses the best indoor/outdoor activities. It's a great time to visit the Farmers' Market, held each Saturday at the CNY Regional Market, and pick up fresh, locally grown produce, prepared foods, homemade soaps and other items. Plus, autumn hikes are definitely much more pleasant than those on sweltering summer days. The fall season also presents opportunities for apple and pumpkin picking, baking mouthwatering pies, drinking hot apple cider while sitting comfortably around a bonfire, taking drives through the countryside to see the changing fall foliage and much more.
What are you into right now?
As someone who enjoys watching TV shows – a telephile? – I'm constantly scoping out new, exciting television series to supplement my obsession with The Office (I've watched all nine seasons over 15 times now and can recite more lines than I'd care to admit). Besides The Office, I've watched all seasons of Arrested Development, Parks and Recreation, Stranger Things, 13 Reasons Why, Ozark, Game of Thrones, Silicon Valley, Veep, Twin Peaks, Master of None, Shameless and American Horror Story just in this past year. Other than watching TV shows for pure enjoyment, I also like to analyze and evaluate them for their cinematic value, meaning and other aspects.
Right now, I'm enjoying the first season of Westworld, which I'll probably finish up before you've finished reading this.
Want to learn more about working at Virtucom Group? Keep in touch with our team on Instagram and Facebook, or learn more about our work on LinkedIn and Twitter.
---
About Virtucom Group
Learn how our team of professional content writers can help you eliminate writer's block and turn your business blog and website into a digital marketing machine. Download our free ebook to learn how outsourcing your content creation to a team of content development specialists can transform your content strategy and brand persona immediately.