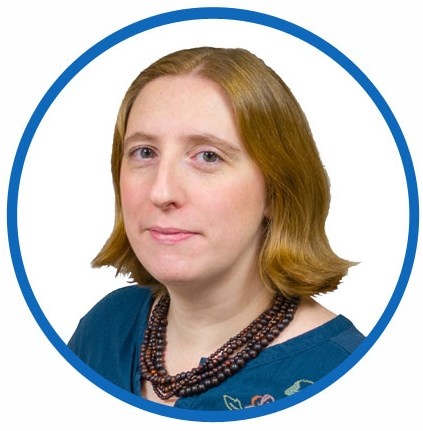 by Sheryl Davis
In our "Meet the Team" series, we feature a Q & A session with a Virtucom Group employee to give you a little more insight into who we are as individuals and as a team. Today's employee is Assistant Editor Chris Whitmore.
Tell us a little about your background.
I was born and raised in Syracuse and have lived here most of my life. I went to school at the University at Buffalo, where I majored in History and Journalism. It took me one semester of interning at a daily newspaper to realize I did not want to be a journalist, but I'm glad I was able to find a career where I could put all my writing and research experience to good use.
How long have you been at Virtucom Group, and how long in your current position?
I began copywriting in 2010 and was quickly promoted to my current position of Assistant Editor.
What are a few interesting things people might not know about you?
I met my wife while working here. Anne began working here in 2012 and we hit it off pretty quickly. She soon decided to leave to go back to school and get her master's degree in English, and she now works as the program manager at LiteracyCNY, which you may recognize as the host of the annual ScrabbleMania event that Virtucom participates in. She's been a judge for the last couple years, but for some reason that hasn't helped Virtucom win yet.
I'm also very into music and started playing guitar when I was 12. I've been playing guitar and singing backup vocals for the local band Bridge Under Fire for the last five years or so. More recently, I've been filling in on bass for another local band, My So-Called Band, when the regular bassist can't make it. We play exclusively 90s covers, everything from Third Eye Blind to House of Pain to Backstreet Boys. I'm working on becoming a permanent member of the band; the shows are super fun to play and the audience is always very into it.
Lastly, I'm also a big fan of video games, both old and new, but I do tend to enjoy the older retro games a bit more. I still have all my old systems from when I was growing up (starting with the NES), and they're all still hooked up and in proper working order. I have an ever-growing collection of video games, as well. I have no idea how many there are, but it's at least a few hundred at this point with no end in sight.
What's your favorite thing about our area?
Having lived in Syracuse for the better part of 30 years, I feel very comfortable here and love calling it home. Being from around here, it might come as a surprise that I'm not a fan of snow at all, and I'm often daydreaming of sunshine during the sometimes-brutal winters here. However, I couldn't imagine being somewhere else in the middle of SU basketball season. Through the Orange's highs and lows, I enjoy sharing the experience with my fellow Syracusans, no matter how cold it is outside.
Tell us about something important you've learned while working at Virtucom Group.
I've learned how important teamwork is during my time with Virtucom. Along with writing, editing and proofreading, I've also gotten some experience with the business side of things by completing internal reports as well as external reports to various clients. It makes it easy to see how everyone's job is a small piece of a bigger picture and that we all must work together to ensure success.
What's the last good book you read?
Regrettably, it's been a couple years since I've been able to sit down and read a new book, but one that I can't recommend enough is The Disaster Artist by Greg Sestero. It's a first-hand account of the making of The Room, one of the best bad movies ever. If you've never seen the movie, it's so poorly acted, written and produced that it's a wonder it ever got made. Tommy Wiseau, the writer/director/"star", wanted to make a serious drama, but ended up with unintentional comedy. After watching the movie, it was fascinating to read through the book to find out how the whole thing came to be.
Tell us about your favorite band.
My favorite band is always changing, but there is one band that will always have a soft spot in my heart: Blink-182. I first heard them when I was around 12, and it's no coincidence that I started playing guitar shortly thereafter. They wrote simple, fun and fast-paced songs and had a weird sense of humor. They were the first musicians I heard of that didn't take themselves too seriously and seemed more like a group of friends hanging out than a band. While I've expanded my musical tastes a lot since then, I still think of Blink fondly for inspiring me to start playing music.
To keep up with Virtucom Group, you can check us out on LinkedIn, visit our Instagram profile, follow @VirtucomGroup on Twitter or like our Facebook page.
---
Learn how our team of professional content writers can help you eliminate writer's block and turn your business blog and website into a digital marketing machine. Download our free ebook to learn how outsourcing your content creation to a team of content development specialists can transform your content strategy and brand persona immediately.